Israel strikes 15 'terror targets' in retaliation against rocket fire from Gaza (VIDEO)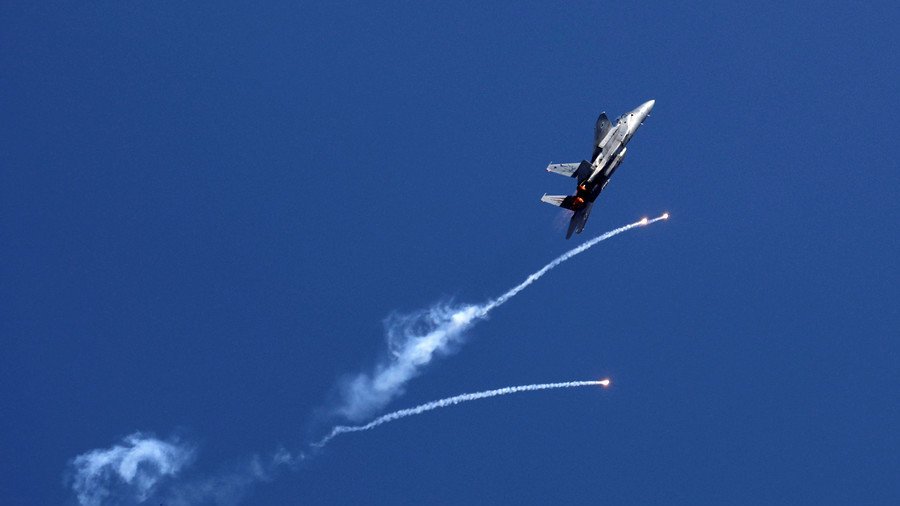 Israeli Air Force jets have launched a series of strikes on Gaza, allegedly destroying several of Hamas' arms depots and manufacturing facilities, in response to projectiles fired against Israel and other "terrorist activities."
"Moments ago, IAF fighter jets targeted 10 terror sites in three military compounds belonging to the Hamas terror organization in the Gaza Strip," the IDF said in a statement shortly after midnight on Sunday. "The strikes were conducted in response to the rockets that were fired and to the various terror activities orchestrated by the Hamas terror organization over the weekend."
Several hours later, the IDF announced that it had attacked an additional five targets inside a compound allegedly belonging to the Hamas "naval force" inside Gaza, which has been under a total land and sea blockade since 2007.
Moments ago, IAF fighter jets targeted five terror targets at a military compound belonging to the Hamas terror organization's naval force in the northern Gaza Strip pic.twitter.com/C431gbkR3K

— IDF (@IDFSpokesperson) June 3, 2018
At least four mortar shells were reportedly launched from the Gaza Strip into southern Israeli territory earlier on Saturday. One of the shells failed to reach Israeli territory and landed on the Gaza side of the border, while three were allegedly intercepted by the Israeli Iron Dome missile defense system.
These terror activities included planting a grenade, hurling explosive devices, attempts to cross the security fence, damaging security infrastructure, and igniting fires in Israeli territory with the use of arson kites and balloons

— IDF (@IDFSpokesperson) June 2, 2018
No one was injured in the incident, which came just days after a major escalation of tensions, when Israeli Defense Forces launched several rounds of air strikes against Hamas targets, in response to cross-border fire and shelling by the armed group.
READ MORE: Israeli jets & helicopters strike 25 'Hamas military targets' in Gaza
Israeli authorities have reiterated that they hold Hamas ultimately responsible for all events that transpire in the Gaza Strip, and accused the group of attempting to "turn the area next to the security fence into a violent zone."
READ MORE: 'It wasn't a random bullet': Palestinians mourn 21yo paramedic as Israel blames Hamas
On Friday, the 10th weekly Great March of Return demonstrations once again turned violent, with at least 40 people injured by gunfire – and a young Palestinian paramedic killed while trying to help wounded activists at the Gaza border.
Facing international criticism for targeting medical workers, Israel promised to probe the incident, but once again shifted the blame on Hamas, accusing the group of inciting civilians and using them as human shields. Rejecting the accusation of using excessive force against the protests, in which over 110 people were killed and thousands injured since March 30, Israeli officials have repeatedly claimed their right to protect the border using all means necessary.
Like this story? Share it with a friend!
You can share this story on social media: