Fireball engulfs children watching science show in Russian mall (VIDEO)
Published time: 1 Jun, 2018 14:39
Edited time: 24 Jul, 2018 10:59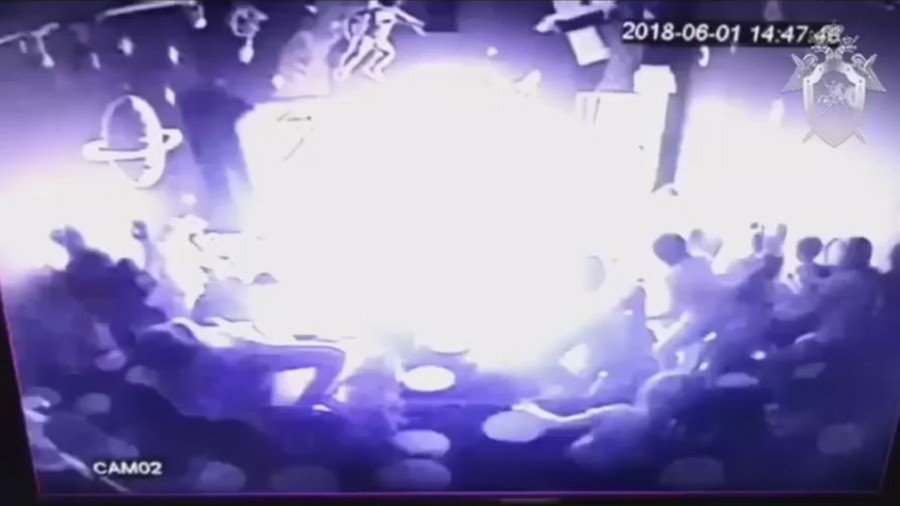 At least eight children have been burned, some severely, after a fireball from a science experiment enveloped spectators in a popular shopping mall in Irkutsk, eastern Russia.
The horrific incident, which occured in a small room filled with children inside the mall, was caught on video and published by a Russian investigative committee. People are seen fleeing the scene in panic, helping each other to the exits while the fire rages.
Some 60 people gathered in a room on the crowded third floor of the 'Komsomoll' in the Siberian city Friday. The show for kids featured some chemical experiments, including one with a "small hydrogen explosion."
During the performance some "gas-and-air substance" eventually caught fire, injuring at least eight of the young spectators.
"They were telling us something about chemistry," a boy named Gosha told Komsomolskaya pravda, with the daily describing him covered in bandages. "Then fire moved to the bottom row, and we were in the fire. I was sitting in the first row, it was scary."
The boy's mother led the children out of the room. Witnesses across social media recalled seeing children with burns flee the scene. As smoke billowed from the room, people began to evacuate the third floor of the mall, where there were many children and parents attending various events devoted to Children's Day celebrations. Parents rushed to pick up their kids from other rooms on the floor.
Luckily the fire did not spread further and 1,500 people were evacuated. The fire alarm failed, however, according to the emergency services, who said they arrived to the scene before it activated.
It's not clear exactly what chemicals caused the incident with some saying that the experiment included hydrogen and others that it involved alcohol, which eventually caught fire. Meanwhile, Tass reported that a Russian investigative committee said that the show included liquid nitrogen.
People on social media are calling on parents to avoid visiting shopping malls with kids, citing lack of security.
In March, fire alarm failures led to the Kemerovo shopping mall tragedy in Russia. A massive blaze at the beginning of the school holidays killed more than 60 people, including many children. The tragedy triggered a series of checks in public places across Russia.