'Summary executions & unacceptable brutality': The Gaza flotilla massacre 8 years on (VIDEO)
On May 31, 2010, Israeli forces ambushed an aid flotilla heading to Gaza, killing 10 activists in a siege that drew international condemnation and sparked damning investigations, despite Israel's efforts to control the narrative.
Six ships – three carrying international aid – were on their way to Gaza to break the blockade imposed by Israel in 2007 when Israeli forces raided the vessels in international waters, about 64 nautical miles from the blockade zone.
The flotilla was organized by the Free Gaza Movement umbrella organization and the Foundation for Human Rights and Freedoms and Humanitarian Aid (IHH). Nine Turkish people were killed during the ambush, while a 10th died in 2014, after spending four years in a coma as a result of his injuries.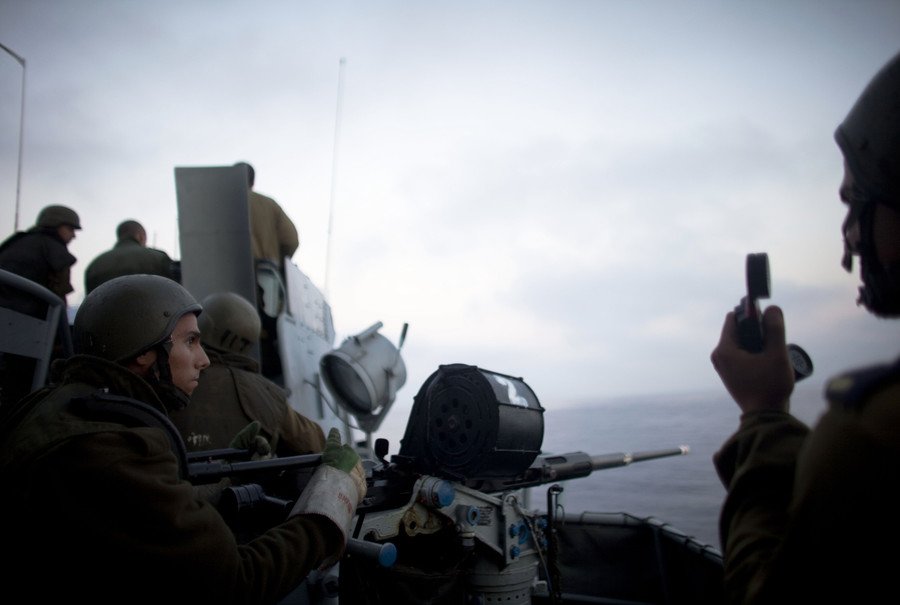 A UN Human Rights Council report said at least six of the killings were "consistent with an extra-legal, arbitrary and summary execution." At least 50 other people were injured and Israel arrested more than 600, including 60 journalists, politicians and other passengers.
'No satisfactory explanation for deaths'
On May 30, the flotilla gathered off the coast of Cyprus to make its way to Gaza. The Israel Defense Forces and Navy told the ships to go to the Israeli port of Ashdod, which the flotilla ignored and Israel claimed the move was a "provocation." At 4am, Israel signal-jammed communications, and half an hour later, launched its attack.
When Israeli forces attempted to board the largest boat, Mavi Marmara, they were met with resistance. Passengers sprayed water hoses and threw things, including chairs. The first of three helicopters arrived and stun grenades were thrown at the boat, while at the same time, forces took over the other, smaller boats in the flotilla.
The Turkish-owned boat experienced the harshest response in the raid. Nine men were killed on board after being shot some 30 times between them, with five receiving gunshots to the head, Turkey's autopsies revealed. A 19 year old, who also had US citizenship, was shot five times at close range.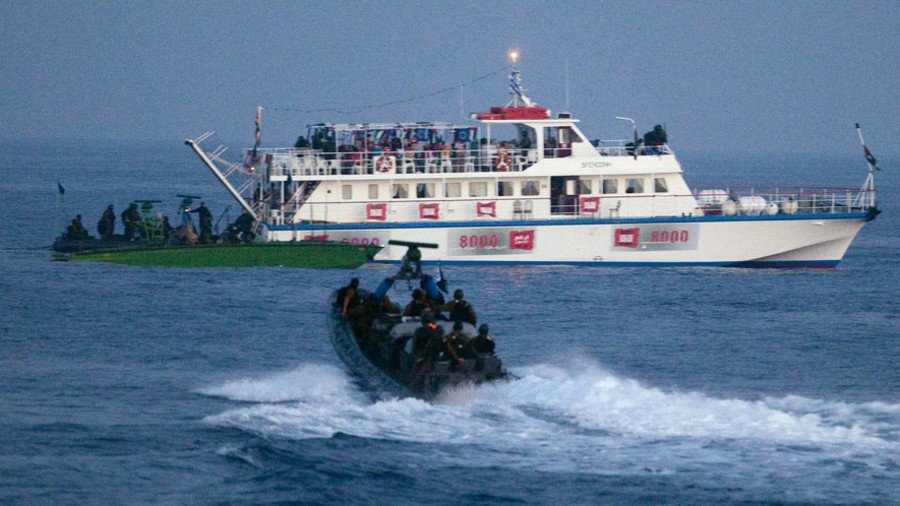 According to Israel's account, a number of the Mavi Marmara passengers were "hardcore" and bore bars and knives. Activists, however, claim the soldiers began shooting as soon as they entered. "After 20 minutes, maybe 15 minutes, there were three dead bodies," Knesset Member Hanin Zoabi recounted.
A 2011 Report of the UN Secretary-General's Panel of Inquiry found Israel gave "no satisfactory explanation" for any of the deaths. It also said that "such substantial force at a great distance from the blockade zone and with no final warning immediately prior to the boarding was excessive and unreasonable."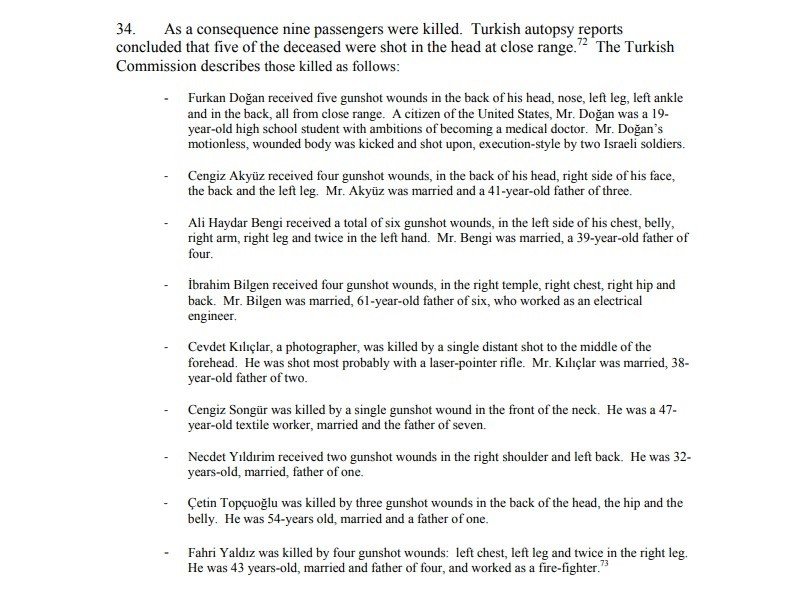 While there were no fatalities on the other boats, those on board say they too suffered violence from the raiding Israeli forces. "They treated all of the boats on the flotilla with violence, they didn't treat any of us peacefully and when they say that, it's an absolute lie," Alex Harrison, who was on board another of the vessels, told a Palestine Solidarity Campaign meeting in June, 2010. "Two of the women were hooded, Guantanamo-style."
Suppressing footage
The flotilla raid drew international outrage, despite Israel getting ahead of the story whilst the activists were detained. Protests over the incident erupted around the world and tensions between Israel and Turkey deteriorated. Israeli Prime Minister Benjamin Netanyahu said the raid was to "prevent the infiltration of thousands of rockets, missiles and other arms that could hit our cities, communities or people."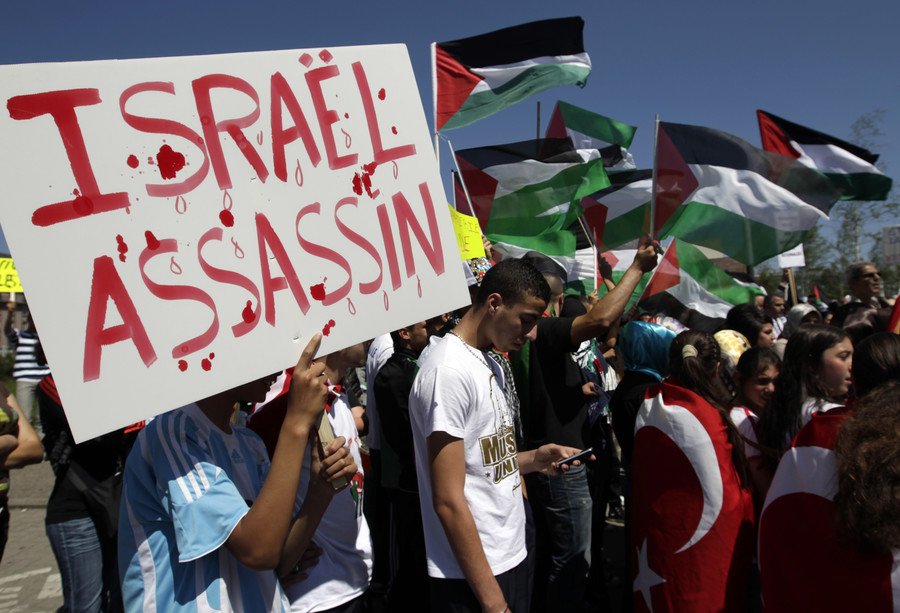 Israel sought to play down the events of the raid, releasing radio recordings it claimed showed the boat's passengers were anti-Semitic and threatening but which it later had to admit had been edited and couldn't be confirmed as from the Mavi Marmara, as originally claimed.
Officials also released select footage, allegedly showing the activists being violent. This included clips from the footage they had seized, which was condemned by the Foreign Press Association and the Committee to Protect Journalists (CPJ). Efforts were also made to frame the IHH as a terrorist organization and some of the passengers as members of Al-Qaeda.
A UN Human Rights Council panel accused Israel of suppressing footage of the raid. The IDF attempted to confiscate images and footage, taking phones and laptops from them, including those belonging to journalists on board. Despite this, an hour of footage from Mari Marmara was released by filmmaker Iara Lee, who was on board.
Israel's inquiry into the events found its actions were legal under international law and noted the "regrettable consequences of the loss of human life." The UN General Assembly's 2010 fact-finding mission found Israeli forces were guilty of a series of violations of international law, and its disproportionate response "betrayed an unacceptable level of brutality." Israel said this was biased.
In November 2017, the International Criminal Court's prosecutor Fatou Bensouda said it would not prosecute Israel, but that there is "reasonable basis to believe that war crimes were committed by some members of the Israel Defence Forces."
Eight years on from the flotilla deaths, Gaza remains under blockade and with two wars waged on Gaza since then, the situation on the ground is more bleak than before. A new flotilla is currently making its way to Gaza, due to arrive in July.


Video by Sergio Angulo
Think your friends would be interested? Share this story!
You can share this story on social media: