Desert odyssey: Chinese astronauts complete survival training (VIDEO)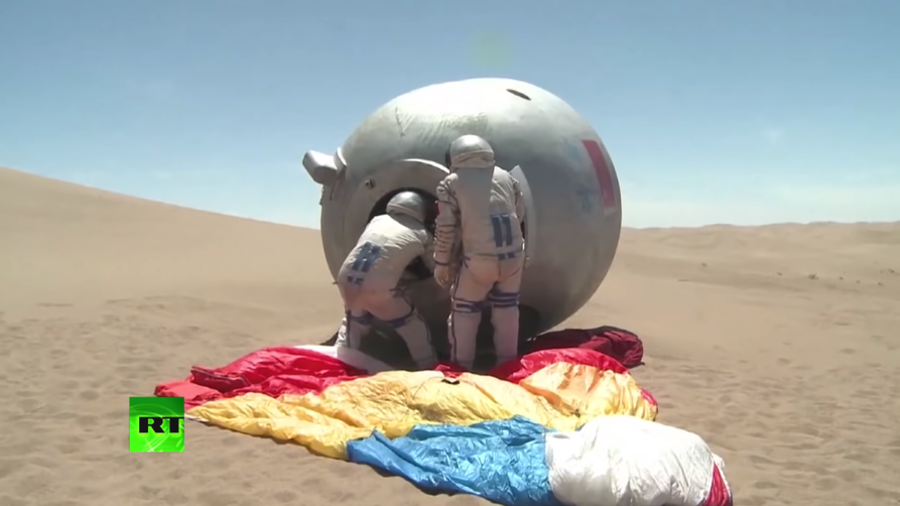 Chinese astronauts have emerged from the harsh terrain of a northern desert after an intense 19-day training program aimed at preparing the team for future space station missions.
The 15-person crew successfully completed the field survival training in the depths of the Badain Jaran Desert - a subsection of the Gobi Desert near the Jiuquan Satellite Launch Centre in Inner Mongolia.
The training was designed to prepare them for the event of an emergency space landing. Astronauts had to exit the capsule themselves, report their location and survive in the desert until rescue came 48 hours later, according to state news agency Xinhua.
Footage shows the astronauts striving to survive in the vast wilderness of the desert and its extreme weather conditions.
"The training was intense and highly demanding, especially when we had to overcome the winds, high temperatures and lack of water," Wang Yaping, the second Chinese woman to go into space, told South China Morning Post.
The program, organised by the Astronaut Center of China, is the latest survival training activity for Chinese astronauts after their sea survival training with two European astronauts in the waters off the coast of Yantai in east China's Shandong Province last year.
The training activities are part of a comprehensive program for astronauts hoping to enter China's space station, which is scheduled to become fully operational by 2022.
READ MORE: China's lunar communication satellite blasts towards moon (VIDEO)