'Sanction Israel!': 4,500 pairs of shoes symbolizing dead Palestinians placed at EU Council (VIDEO)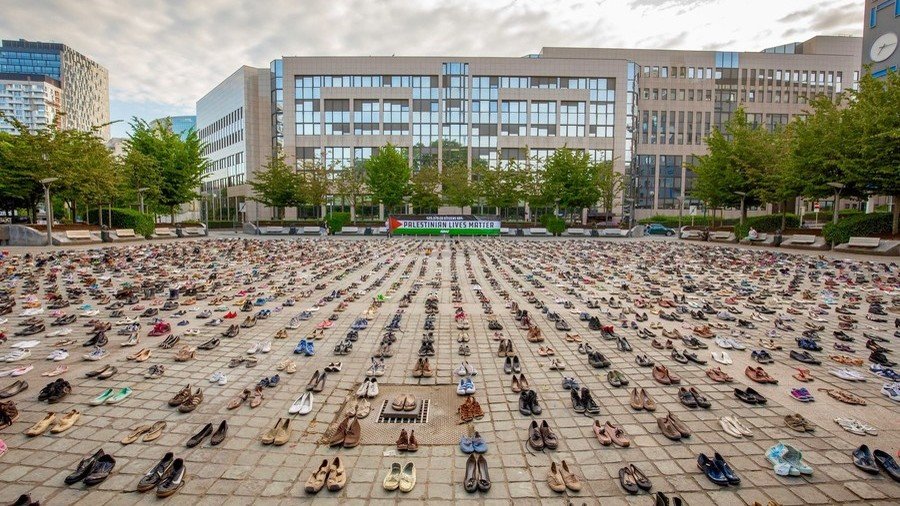 Campaigners lined up 4,500 pairs of shoes symbolizing the number of Palestinians killed by Israelis in the past decade outside the EU Council building in Brussels, to put pressure on European foreign ministers meeting inside.
"We have a message to leaders of the European Union that says: 'Palestinian lives matter'," Fadi Quran, senior campaigner for Avaaz, the NGO that organized the display, told Ruptly. "We believe that the only way to move towards peace is to sanction Israel, that's the only resort we have and that's our goal."
Palestinian activists such as Quran have led the Boycott, Divestment and Sanctions (BDS) campaign against Israel since 2005, but the movement has been reinvigorated in recent months, as violence and political tension has surged in the region.
The stand-off culminated with thousands-strong clashes on the Israeli-Gaza boundary on the day the US officially moved its embassy from Tel Aviv to Jerusalem, on May 14, when 60 Gazans were reportedly killed by IDF troops.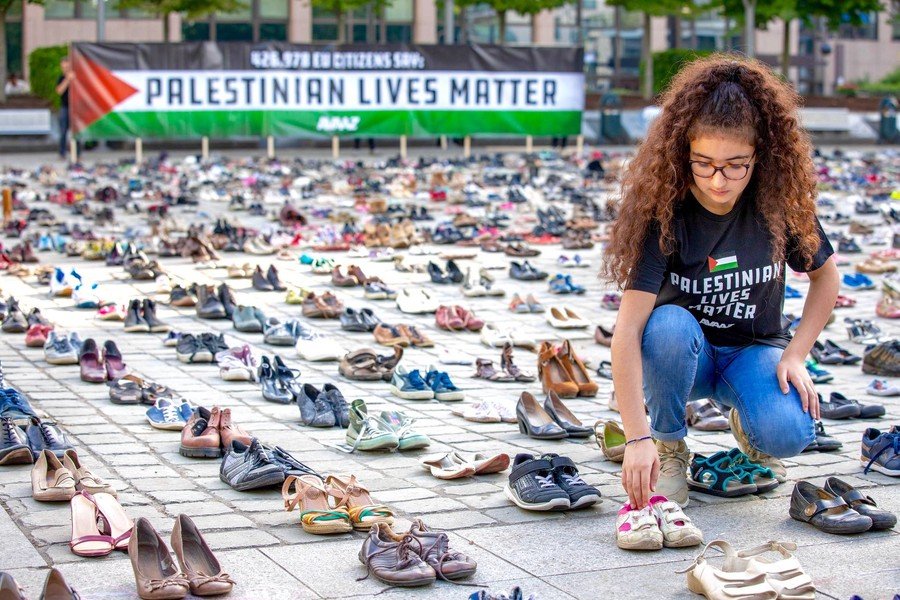 Multiple EU countries, which had opposed the controversial embassy move, condemned the use of excessive force, but none implemented any specific measures to punish Benjamin Netanyahu's administration. European foreign ministers were due to hold a fresh meeting on the issue on Monday, which could provide a unified response from the continent.
READ MORE: Use of live fire against Palestinian protesters justified by Israel's Supreme Court
Organizers want diplomats to focus not only on precarious geopolitical maneuvering in the Middle East, but to empathize with the human cost of the decades-long conflict.
"Over a thousand of the pairs of shoes here symbolize children and I brought the shoes of my daughter as well, to just show that I'm standing with those fathers, those mothers, those brothers and sisters who have lost their children and their siblings in this war," said Christoph Schott, another senior campaigner for Avaaz.
You can share this story on social media: