Back to 'normal'? Ecuador withdraws Assange's extra security at London embassy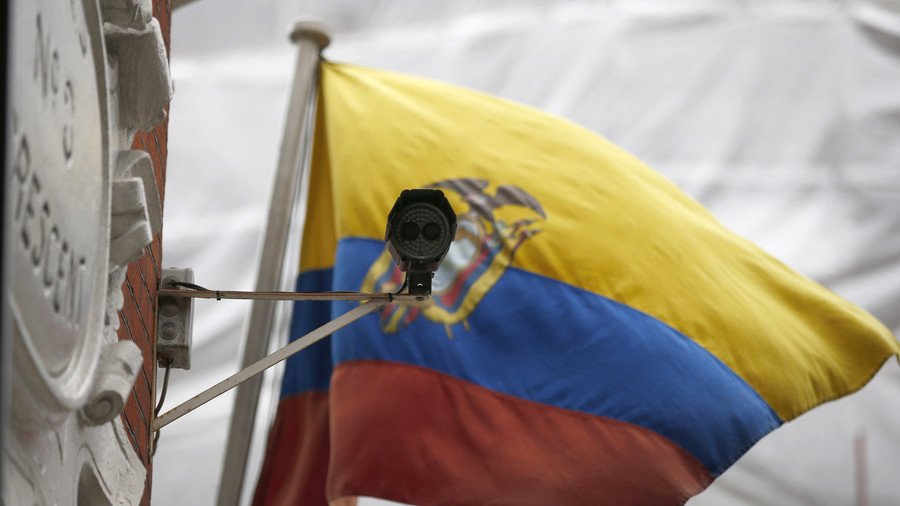 The president of Ecuador has ordered the withdrawal of enhanced security from the country's London embassy, which was assigned to protect Julian Assange, who remains holed up there to avoid possible deportation to the US.
The Ecuadorian government "will maintain normal security similar to the level of security at all other Ecuadorean embassies in the rest of the world," Lenin Moreno, national secretary of communication, said in a statement. He added that "additional security at the Ecuadorian embassy" in London will be withdrawn immediately.
Assange has been residing at the Ecuadorian embassy in the UK since August 2012, after British judges denied his appeal against extradition to Sweden, where he was wanted for questioning in connection with sexual assault accusations.
The Australian native, whose WikiLeaks whistleblowing website published secret documents pertaining to US national security, feared that Sweden would extradite him to the US. There, he could face a similar fate as Chelsea Manning, who was court-martialed and sentenced to 35 years behind bars for violations of the Espionage Act and other offenses. Manning was subsequently pardoned by former president Barack Obama after seven years in prison.
Eventually, Assange became an Ecuadorian citizen but remains trapped inside the walls of the embassy, despite the fact that Sweden has abandoned its extradition request. The UK authorities still have an active arrest warrant against the 46-year old for skipping bail back in 2012.
READ MORE: Ecuador's new rules ban Assange from taking visitors and phone calls – WikiLeaks
Earlier this week, The Guardian reported that Ecuador has spent $5 million accommodating Julian Assange in its UK embassy. Moreno's predecessor, Rafael Correa, blasted the report as a "sensationalized story," and said that there is "nothing unusual" about providing extra security. He argued that his government "spent what amounts to a small amount of money" for that purpose.
Think your friends would be interested? Share this story!
You can share this story on social media: