Man tries to force his way onto plane, injures 3 ground staff (VIDEO)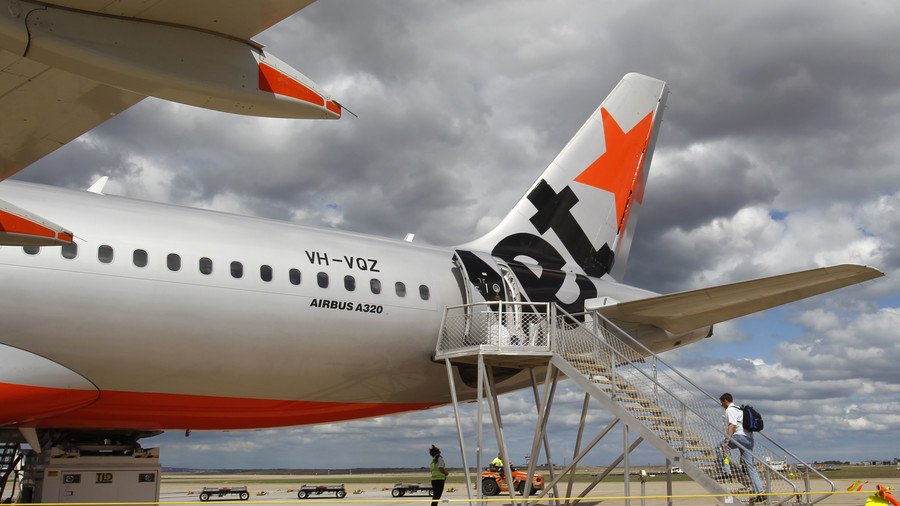 Two airlines have slapped a man with a travel ban because he tried to force open an airplane door after missing his flight. To make matters worse, it wasn't even the right plane.
The incident took place on the tarmac at Melbourne Airport in Australia on Thursday morning. Video footage published by 9News shows the passenger furiously tugging at the door handle in an effort to break onto the aircraft. He even uses his foot to get greater leverage when his initial efforts prove fruitless. The video ends as the man is about to be confronted by staff.
Eyewitness, Susannah Murray, told the Australian news channel that she saw the man "physically fighting with the staff".
"We were sitting waiting to get on the flight and people went, 'Oh my god, what is going on?'" Murray said. "Someone was running on the tarmac. This man was trying to get up the stairs, he was physically fighting with the staff, punching and scratching them."
The staff restrained the 57-year-old – however he managed to break free and again reached the door of the plane. He was then arrested by police officers and charged with one count of unlawful assault. He will appear in court next month and the police said that more charges may be laid. Three members of staff required medical treatment after the encounter.
"We praise our crew for safely handling this incident and restraining the passenger until police arrived," Jetstar said in a statement. "This behavior is unacceptable and we have placed an immediate ban on this passenger travelling on all Jetstar and Qantas flights."
It also transpired that the plane onto which man was trying to force himself wasn't even his own flight, which had left several hours earlier. The plane he attacked was then delayed approximately an hour as engineers carried out an inspection of the aircraft.
RT.com has reached out to Jetstar and the police for further comment.
Like this story? Share it with a friend!
You can share this story on social media: