Israeli Air Force strikes Hamas targets on day of bloody protest in Gaza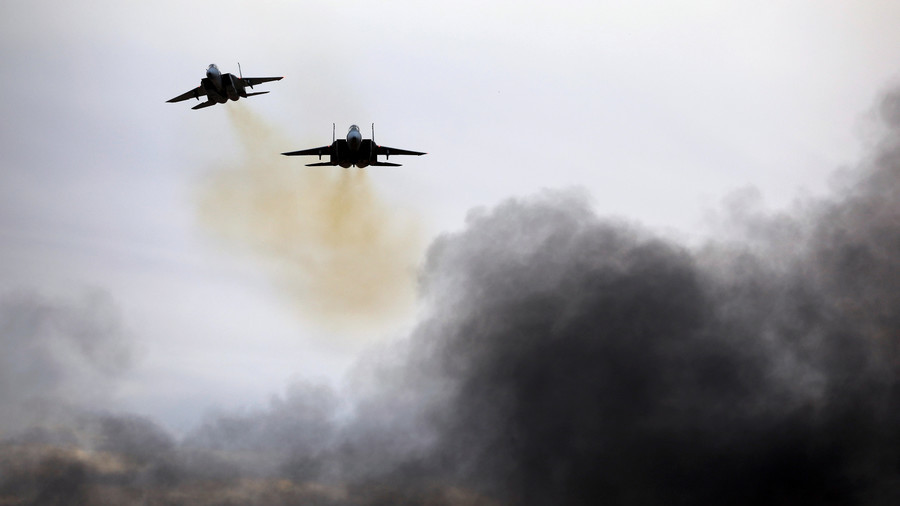 Israel has launched airstrikes targeting Hamas in Gaza as over 50 protesters have been killed at the border by the IDF. It said it was responding to terrorist activity and killed at least three terrorists.
The Israeli Defence Forces tweeted on Monday that one of its Air Force fighter jets "struck 5 Hamas terror organization targets in a military training facility in northern Gaza."
READ MORE: 'Gruesome propaganda attempt': White House blames Hamas for Gaza deaths
It explained that the strike was carried out "in response to the violent acts carried out by Hamas over the last few hours along the security fence." The previous tweet included a low-quality video appearing to show people running to a fence. A tank approaches on the other side and fires, causing the bodies to run. The video cuts to a number of different clips over its 48-second duration.
The IDF will continue to prevent mass terror attacks, which have largely been orchestrated by the Hamas terror organization. All terror activity will be met with a harsh response. IDF troops will continue to defend Israel & its civilians

— IDF (@IDFSpokesperson) May 14, 2018
The IDF also tweeted that earlier on Monday an IDF aircraft and tank targeted two additional Hamas positions in northern Gaza. It said that this was in response to "Hamas' firing on IDF troops in northern Gaza."
A short while ago, an IAF fighter jet struck 5 Hamas terror organization targets in a military training facility in northern Gaza pic.twitter.com/eDKTlOzVVU

— IDF (@IDFSpokesperson) May 14, 2018
Earlier in the day, it tweeted that three "terrorists attempted to place an explosive device near the security fence in Rafah," and that "the IDF fired at the terrorists, who were killed." This tweet also included a 15-second video containing a number of different scenes edited together, showing smoke and fire at the protests.
An additional tweet said an "IAF aircraft targeted Hamas military posts near the Jabalia area after IDF troops were fired upon from the northern Gaza Strip. No IDF soldiers were injured in the incident."
The sixth week of the Great Return March at the Gaza border has been the most deadly, with the IDF killing 55 Palestinians and wounding more than 2,700 others.
Israel has insisted that the protests were a cover for Hamas to attack Israel since before they began. The Great Return March calls for Palestinian refugees to be granted their right to return to the land they fled during the establishment of the state of Israel in 1948.
Think your friends would be interested? Share this story!