'Netanyahu resign!' Israelis protest against US embassy move, Jerusalem Day parade (VIDEO)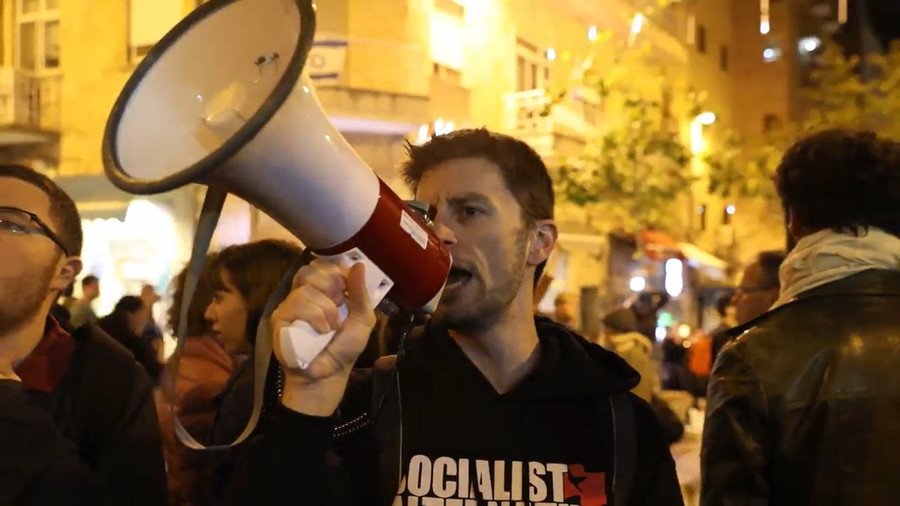 Hundreds of people hit the streets of Jerusalem late Saturday to protest against the relocation of the US embassy to the city and a Jerusalem Day parade, saying that both only serve to escalate tensions with Palestine.
The demonstration, organized by co-existence group Standing Together and settlement watchdog Peace Now, saw at least 100 protesters march from King George Street to the Old City's Jaffa Gate.
Video footage posted by Ruptly agency showed protesters carrying placards with slogans including "Don't set Jerusalem on fire." They shouted slogans such as "We oppose an escalation [of the security situation]" and "Netanyahu – resign! Peace is worth more [than the embassy move]," the Jerusalem Post reported.
"I came today because I firmly believe Jerusalem belongs to everybody... everybody shares Jerusalem. And there's just too much bad stuff being done in the name of Jews," one protester told Ruptly.
The march came just two days before the US embassy is scheduled to make its move from Tel Aviv, a result of Donald Trump officially recognizing Jerusalem as the capital of Israel in December. That decision led to widespread protests across the Middle East and condemnation from UN member states, the EU, and Pope Francis. The move was hailed by Israeli Prime Minister Benjamin Netanyahu as a "historic landmark."
READ MORE: 'Next time in Jerusalem': Israeli winner adds political jab to Eurovision Song Contest
Meanwhile, the Israeli demonstrators also hit out at the Flag March, which is due to take place as part of Jerusalem Day on Sunday. The march has long been the subject of criticism from many on the left, as it involves participants wearing the colors of the Israeli flag and marching through the Old City's Muslim Quarter. It has sparked violence between Israeli revelers and Palestinian residents in the past.
The embassy move and Jerusalem Day come at a tense time, as Palestinians have been protesting as part of the Great Return March at the Gaza border since March. Those protests are set to culminate on 'Nakba' on Tuesday, which Palestinians regard as a day of mass exodus from their land due to the establishment of Israel.
If you like this story, share it with a friend!
You can share this story on social media: