Israeli bombardment in Syria killed 3, injured 2 – state media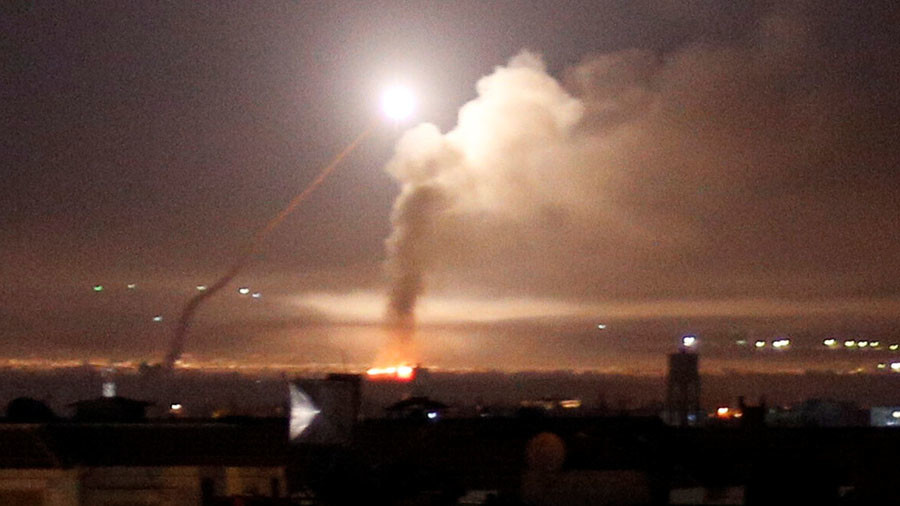 Three people have been killed and two wounded in an attack by Israeli forces against Iranian targets in Syria. Israeli strikes destroyed a radar station and an arms warehouse and damaged air defense units, Sana reports.
Syrian air defense systems intercepted most of the rockets launched by Israel at dawn, according to Syrian army command cited by Sana. Israel's direct action indicates "a new stage of aggression against Syria," the agency reported, citing a source in the Syrian Foreign Ministry.
#عاجل|| #سانا.. القيادة العامة للجيش.. وصول عدد من صواريخ #العداون_الإسرائيلي تسبب بارتقاء ثلاثة شهداء وإصابة اثنين آخرين بجراح إضافة إلى تدمير محطة رادار ومستودع ذخيرة وإصابة عدد من كتائب الدفاع الجوي بأضرار مادية.

— سانا عاجل (@SanaAjel) May 10, 2018
Early on Thursday, Israeli forces launched a barrage of rockets at Syrian territory, saying that it was aimed at Iranian targets in the country. Tel-Aviv blames Iranian Revolutionary Guard Corp's Quds Forces of attacking its positions in the Golan Heights and in response carried out the massive overnight attack.
READ MORE: 28 Israeli jets fired about 60 rockets in overnight strikes on Syria – Russian MoD
The incident at the Israeli-occupied Golan Heights was observed by the Russian military and is being evaluated, Russian Foreign Minister Sergey Lavrov said on Thursday.