'Death to America!': Iranian lawmakers burn US flag in response to Trump's decision (VIDEO)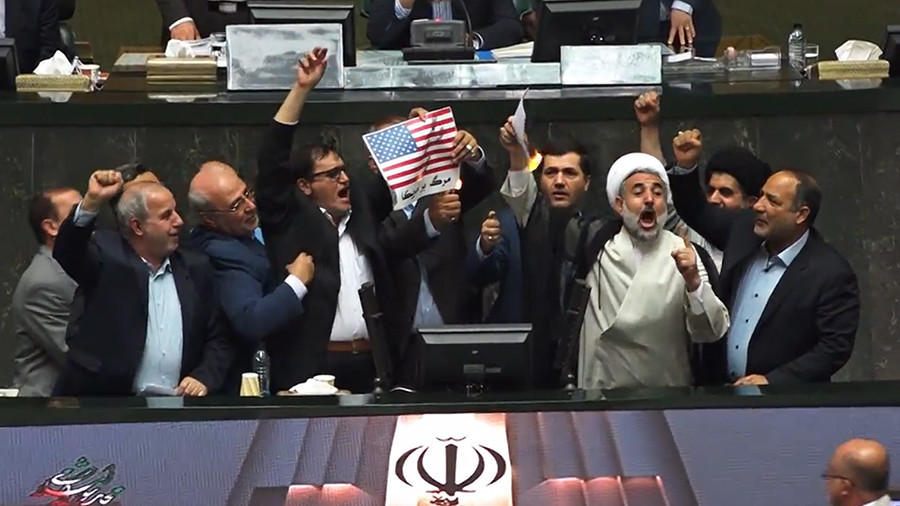 Iranian lawmakers burned a picture of a US flag while shouting "death to America!" during a session of the country's parliament, in response to the US withdrawal from the 2015 nuclear deal.
Angry MPs joined in the fiery spectacle Wednesday with anti-American chants, while also adding a piece of paper, reportedly representing the nuclear deal, to the flames. In footage of the event, MPs from across the parliamentary hall can be seen rushing to the pulpit with their fists in the air.
Trump's controversial decision sparked outrage across the international community and, in particular, among his allies in Europe who have vowed to adhere to the original agreement.
"If necessary, we can begin our industrial enrichment without any limitations," the Iranian President Hassan Rouhani said, echoing similar comments from the speaker of the parliament, Ali Larijani earlier on Wednesday.
"Until implementation of this decision, we will wait for some weeks and will talk with our friends and allies and other signatories of the nuclear deal, who signed it and who will remain loyal to it. Everything depends on our national interests," Rouhani added.
READ MORE: Trump lacks 'mental capacities,' Iran says after US pulls out of nuclear deal
Following his announcement Tuesday, Trump signed a presidential memorandum reinstating US sanctions against Tehran that were waived in the wake of the deal which was signed under the Obama administration.
Like this story? Share it with a friend!
You can share this story on social media: