IDF soldier filmed 'executing' Palestinian attacker freed after 9 months in jail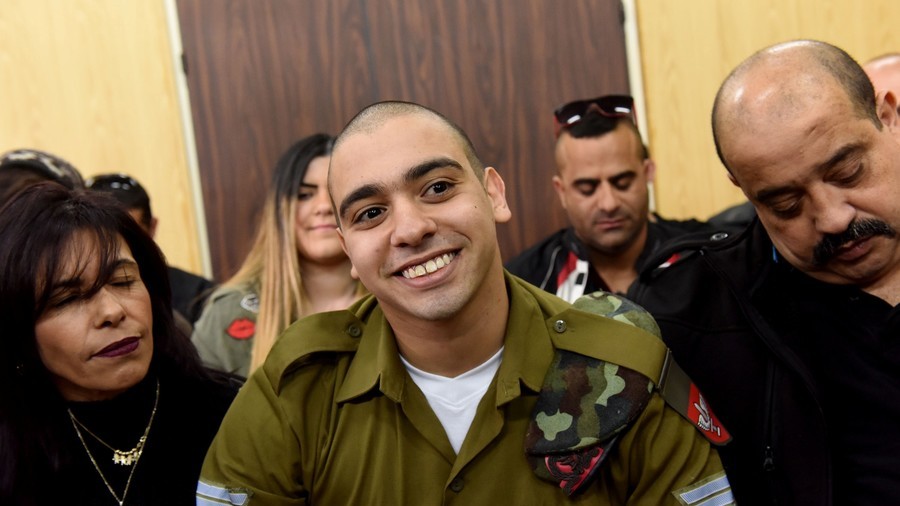 An Israeli soldier caught on film by a human rights activist executing an injured Palestinian man has been released from prison early after serving half of his original 18-month sentence in a military prison.
Elor Azaria was convicted of manslaughter in January 2017 of manslaughter for shooting dead alleged assailant Abdel Fattah al-Sharif in the West Bank. During his trial, the court heard Azaria fired the fatal shot as al-Sharif lay prostrate on the ground having been wounded during an attempted knife attack on another IDF soldier.
The trial judge at the time rejected Azaria's claim that he feared the disarmed assailant might detonate an explosive belt, labelling the incident as "unjustified." Azaria was sentenced to 18 months in jail, a term which was subsequently reduced to 14 months.
Israeli Prime Minister Benjamin Netanyahu initially condemned Azaria's actions before backing a pardon for the IDF soldier.
According to the Times of Israel, Azaria was granted release by a parole board in March and he walked out of prison a free man on Monday. Following the release, Israel's Minister for Transport, Road Safety and Intelligence, Israel Katz, called for Azaria's criminal record to be expunged.
"It was time for him to come home to his family and friends," Katz said on Twitter, posting an image of Azaria with his family. "I appeal to the [Israeli] President Reuven Rivlin, to act now to delete the criminal record… in order for him to integrate into civilian life and continue his life in a proper way."
מברך על שחרורו של אלאור אזריה. הגיע העת שאלאור ישוב הבייתה אל משפחתו וחבריו.אני פונה לנשיא המדינה ראובן ריבלין, לפעול כעת למחיקת הרישום הפלילי של אלאור על מנת לאפשר לו להשתלב בחיים האזרחיים ולהמשיך את חייו בדרך ראויה. pic.twitter.com/Ig6oY2y9G8

— ישראל כץ Israel Katz (@Israel_katz) May 8, 2018
Footage of the 2016 killing showed Azaria chamber a round into his rifle before pulling the trigger on al-Sharif, who remained prone on the ground surrounded by armed IDF personnel. Commenting on the case, the UN High Commissioner for Human Rights Ravina Shamdasani said Azaria's punishment for the death was "excessively lenient".
READ MORE: 'Constant fear': Activist who filmed Israeli soldier shooting Palestinian tells RT of death threats
"We are deeply disturbed at the lenient sentence given by the Tel Aviv Military Court earlier this week to an Israeli soldier convicted of unlawfully killing a wounded Palestinian in an apparent extrajudicial execution of an unarmed man who clearly posed no imminent threat," Shamdasani's office said at the time.