US Embassy that way: New road signs go up in Jerusalem (VIDEO)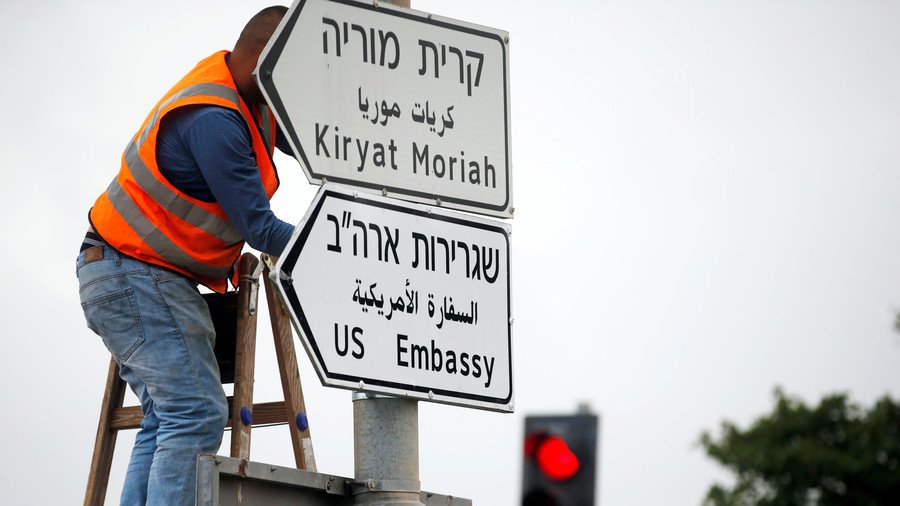 Authorities in Jerusalem have put up several new road signs pointing to the US Embassy. The signs in English, Hebrew, and Arabic were spotted on Monday.
The embassy will be officially relocated from Tel Aviv on May 14, upgrading the status of an existing US consulate in southern Jerusalem. The move is mostly symbolic, since the compound will require extensive renovation and construction work to house the entire embassy services.
According to Reuters, at least three signs pointing to the diplomatic facility were spotted in the city.
Last year's decision by the Trump administration to move the embassy to Jerusalem was harshly criticized by the international community. Israel's continued occupation of the eastern part of the city is a major offense to Palestinians, so the recognition of Jerusalem as the Israeli capital poses a significant setback to the Arab-Israeli peace process. Even America's closest allies, including the UK, criticized the decision for undermining the prospect of a two-state solution for the decades-old conflict.
The move arguably fuelled one of the largest Palestinian protests in years, currently underway at the border of Gaza, where dozens of people were killed and thousands injured by Israeli forces over the past weeks.
Like this story? Share it with a friend!
You can share this story on social media: