Cyclist plunges from helicopter, makes 43-meter snow jump (PHOTOS, VIDEOS)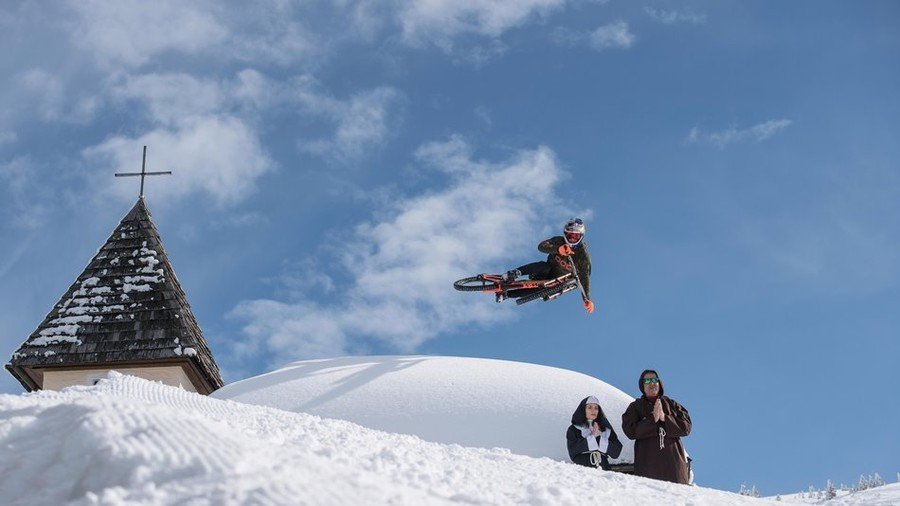 Austrian mountain biker Fabio Wibmer has taken his antics to new heights (literally) for a death-defying stunt which sees him drop from a helicopter with his bike onto the slopes and make a jump of 43 meters.
The adrenaline-pumping stunt was filmed at the ski-resort of Saalbach-Hinterglemm, Austria for the YouTube sensation's latest video - and ended with him smashing his collarbone.
Wibmer admitted he was "so lucky" when filming the stunt and guessed that his leap of faith could be the longest bike jump ever made. "We googled the longest jump on a bike and it's 42 meters," he said in behind the scenes footage, admitting it's the longest he has himself ever attempted.
The clip begins with Wibmer descending from a helicopter on his mountain bike and immediately hitting the snowy slopes. This was the hardest part of the whole production, he told Red Bull.
"I had to jump down 7-8 meters to land in a snow clear. That's damn high and I really had to overcome myself because I've never done anything like that.
"It only worked the second time, but then we wanted to shoot it [from] another perspective and then it did not work as well. Result: broken collarbone."
He also posted footage to Instagram showing how close he came to slipping right off the roof of one of the buildings used as a launch point in his stunt.
In the finished video, Wibmer also hurdles himself over a chapel - skimming past a nun and priest - disturbs bystanding skiers, grabs onto a ski lift, and escapes pursuit from ski police during his wild ride.
While it might seem difficult to top all that, Wimber says he has more up his sleeve for future projects: "Do not worry, I still have countless ideas of things I would like to do!"
Think your friends would be interested? Share this story!
You can share this story on social media: