'Man under tracks!' Tank runs over riders in Russia (VIDEO)
Published time: 1 May, 2018 08:00
Edited time: 2 May, 2018 07:49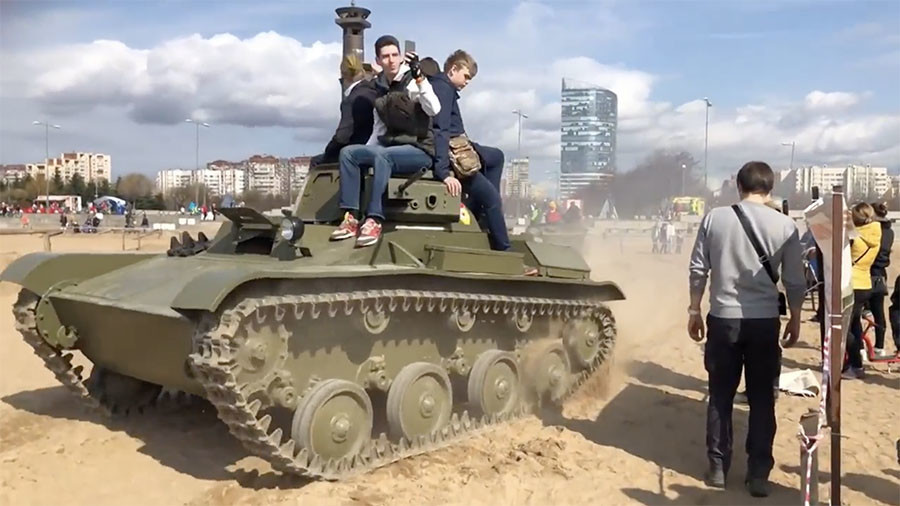 A WWII-era Soviet tank ran over three people who were riding on it during a military-style event in St. Petersburg. One of the riders filmed the harrowing experience, including the moment he was under the tracks.
The chilling incident occurred at the Combat Steel military-style event in St. Petersburg, during which a handful of visitors, including minors, were allowed to ride a replica of T-60 light tank, a six-ton armored vehicle used by the Red Army during World War II. Footage from Ruptly news agency shows the tank traversing the sandy ground with cheering riders on top of the turret.
Moments afterwards, the tank goes up on a mound and throws a man and two children off, leaving them under its tracks as it descends. What happened next was filmed by Petr Nazarov, a 33-year-old man who was hit by the armored vehicle.
In his footage, people are heard yelling "pull back, pull back!" and "he's under the tank!" The panicked man screams in fear while his camera continues to film from under the hull.
Someone then says, "call an ambulance," and another voice is heard saying, "It's ok, everything's alright."
The tank pulled back and Nazarov miraculously survived, only suffering a bruised rib and broken ankle. The two others, a 9-year-old boy and a 15-year-old, only had minor bruises.
St. Petersburg police are investigating the incident after reports emerged that the event was not authorized by local authorities.
Like this story? Share it with a friend!