Twitterati challenge journalist who bemoaned Douma testimony as 'bizarre & underwhelming'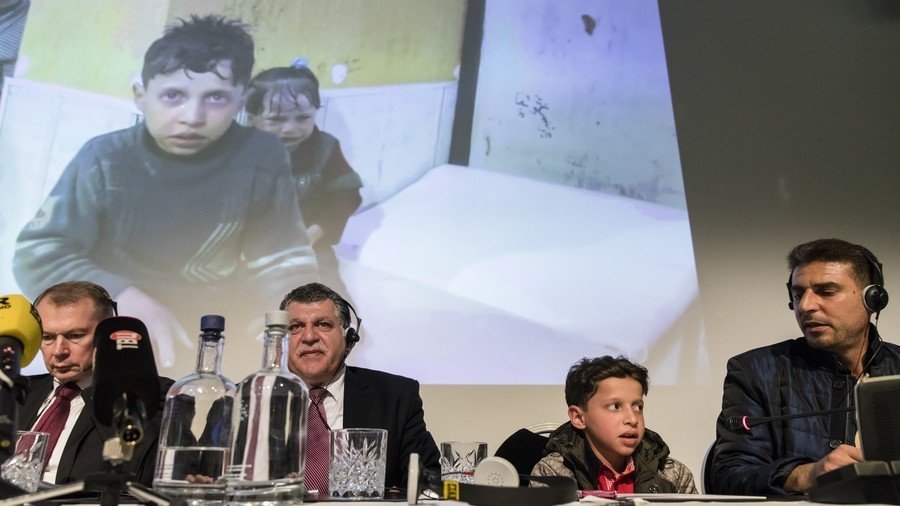 Witnesses giving public testimony about the alleged chemical attack in Douma – what can be uncomfortable about that? A lot, according to one journalist, as the event was organized by Russia. Readers were not convinced.
The Intercept's Robert Mackey took issue with Russia's decision to allow an 11-year-old "victim" of the alleged attack to speak at The Hague about his experience, claiming that the boy's testimony was an affront to the Organisation for the Prohibition of Chemical Weapons' (OPCW) ongoing investigation and included nothing to support the theory that the gas attack was staged.
"Rather than wait for @OPCW to verify its claim that there was no chemical attack in Syria, Russia staged its own event at OPCW headquarters in The Hague and flew in an 11-year-old witness who said nothing to support the theory that he acted in a hoax video," Mackey wrote on Twitter, linking to his Intercept piece.
In his article, Mackey cites an OPCW statement which recommended that the boy, Hassan Diab, and sixteen other witnesses be interviewed by the fact-finding mission, and that the briefing should be postponed until after the investigation is completed.
However, Mackey's report failed to mention that according to Russia's envoy to the OPCW, Alexander Shulgin, the participants in The Hague event were ready to be interviewed – but were turned down by the OPCW investigators. "The experts are sticking to their own guidelines," Shulgin said during the briefing. "They've picked six people, talked to them, and said they were 'completely satisfied' with their account and did not have any further questions."
The OPCW statement cited by Mackey stated that "the team also interviewed some people related to the Douma incident, who were brought to Damascus."
Dismissing the testimony as "bizarre" and "underwhelming," Mackey soon discovered that his readers saw things a bit differently. "Actually, the case of Russia and the Syrians who appeared in the 'White Helmets' video, who testified there was no chemical attack, is overwhelmingly convincing. It is a far out conspiracy theory to suggest the Douma hospital workers were not telling the truth. This Intercept article is absolutely insane," one commenter wrote.
The article's comments section is inundated with criticisms of Mackey's dismissive attitude towards the witnesses – and Mackey didn't fare much better on Twitter.
"Rather than wait for the @OPCW to verify claims of a chemical attack in #Douma, the US, UK and France BOMBED Syria. Did you object to that, Robert?" Sharmine Narwani, a Middle East analyst and former senior associate at St. Anthony's College, Oxford, tweeted back at Mackey.
Narwani's objections to Mackey's line of reasoning appeared to resonate with many on Twitter. "You must have missed those new and smart missiles that were fired before verification," one user wrote in response to Mackey's tweet.
"Did the US, UK & #France wait for the #OPCW's conclusion before firing 100+ missiles into #Syria?" asked another.
Mackey responded to Narwani by claiming that he never said he supported the US-led missile attack against Syria, but that making such comparisons amounted to "whataboutism."
"You are the only one who compared the uncomfortable spectacle of bringing an 11-year-old to a press conference to airstrikes," Mackey wrote in reply to Narwani's comment. "Whataboutism is a tired, simplistic rhetorical strategy," he added.
Narwani shot back: "Please. You're gatekeeping now. Western media and politicians paraded around Bana, Omran, and Alan Kurdi's body to score cheap points. There was one child on a panel of half a dozen witnesses from Douma. Why was this one suddenly 'uncomfortable' for you?"
The OPCW is investigating the alleged CW incident in Douma - at the invitation of the Syrian govt, it so happens. Btw, there's a vast difference btwn bombing a sovereign state and calling for a press conference. Check your 'outrage' meter.

— Sharmine Narwani (@snarwani) April 27, 2018
In a separate Twitter thread, Mackey hurled accusations of "whataboutism" at users who objected to the idea that Russia had "pre-empted" the OPCW investigation by allowing witnesses to speak at The Hague.
"If we accuse someone of gross hypocrisy [sp], the best answer they can give is, 'that's whataboutism'?" one user wrote.
The OPCW fact-finding mission was initially delayed by the US-led missile strike against Syria in the early hours of April 14 – the same day that the team was scheduled to arrive in Damascus to begin its investigation.
There was also pushback against Mackey's claim that Diab's testimony did not raise questions about the authenticity of the widely-cited video that claims to show the chaotic aftermath of a gas attack.
"He is alive and well, as you can see, that supports the theory," one Twitter user noted.
Media use a child to spread anti-Syrian gov propaganda is totally acceptable, but for Syria and Russia to bring a child to tell his story, then that is "propaganda" and unacceptable! pic.twitter.com/7UxdCZnnFR

— Bassem (@BBassem7) April 27, 2018
The Twitterati were quick to point out the glaring hypocrisy of completely discounting testimony from Diab, while fawning over (and offering book deals to) Bana al-Abed, the Aleppo child who allegedly used her pristine English to tweet passionate calls for Western military intervention in Syria. Numerous video interviews have since shown that Bana struggles with the most basic English phrases. It has also been revealed that her father was a militant in the former jihadist-controlled city.
Like this story? Share it with a friend!
You can share this story on social media: