Illumination of Crimean Bridge arch dazzles night sky (PHOTOS, VIDEO)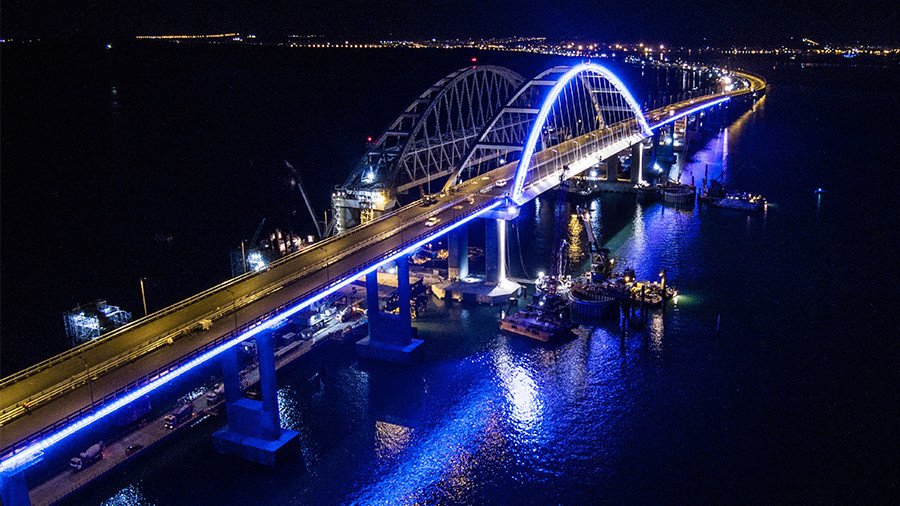 The 5,500-ton highway arch of the Crimean Bridge lit up the night sky with deep blue. The massive bridge connecting the Crimean Peninsula with mainland Russia is set to open later in May, six months ahead of schedule.
The bridge's lighting system was just recently tested and the illumination will be in full operation after the railway section of the bridge is complete. The bridge will be lit in the colors of the Russian flag. The highway arch will be blue, the railway arch red, and the bridge' support constructions will be white.
The spectacular structure has two separate parts, one for trains, which is due to be opened in 2019, and another for cars, which will have four lanes.
When opened, the 19-km bridge will be the longest in Europe, leaving Portugal's Vasco da Gama Bridge (12.3km) far behind.
READ MORE: Crimean bridge will open to car traffic in May, well ahead of schedule
Construction began in May 2015, a year after Crimea overwhelmingly voted to reunite with Russia in a referendum. The link is vital due to the peninsula only having a land border with Ukraine, and currently can only be reached from Russia by direct flights and ferries.
The bridge is expected to service at least 14 million passengers and to allow the transportation of at least 13 million tons of cargo per year.
Like this story? Share it with a friend!
You can share this story on social media: