Frenemies at the table: Kim & Moon to foster goodwill at historic meeting – but Trump's shadow looms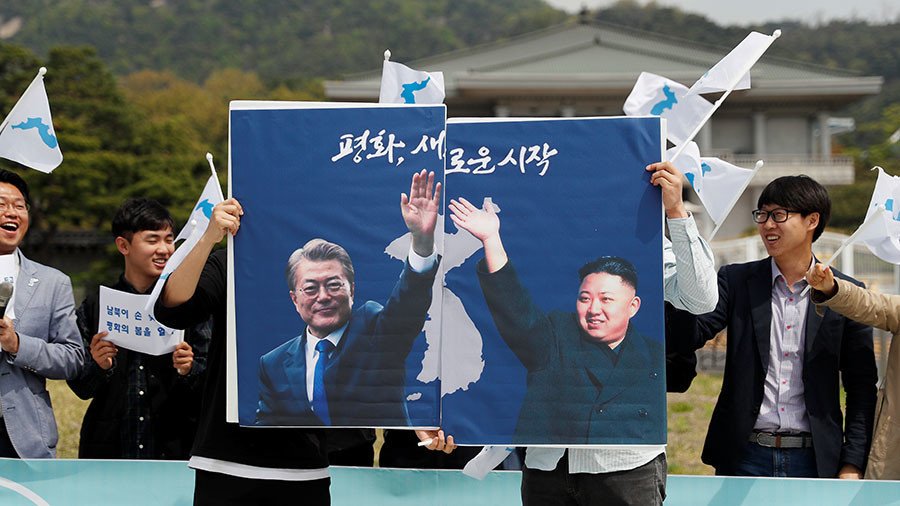 After a decade-long pause, the two Koreas are holding a top-level summit this week. Seoul may score some domestic political points, but it's in no real position to negotiate essential changes with Pyongyang.
This Friday, North Korean leader Kim Jong-un and South Korean President Moon Jae-in will meet face to face, marking the first such summit in over a decade. The previous intra-Korean event of this level happened in 2007, when Kim's father, Kim Il-sung, met South Korea's then leader, Roh Moo-hyun. A year later, the South had a new conservative government, ending a decade of détente with the North and heralding a new era of confrontation.
Coming to power against the backdrop of the impeachment of his conservative predecessor, the disgraced Park Geun-hye, Moon promised voters he would renew attempts at reengaging Pyongyang. North Korea in the past 10 years has made strides in nuclear and rocket technologies, creating what many observers believe to be a credible threat to the South's patron, the United States. With Donald Trump sending hostile signals from the White House, last year the region seemed to be at risk of a real large-scale war. However, the tension has since eased somewhat, as Kim and Moon took a number of symbolic steps to signal willingness to negotiate.
Symbolic gestures
The upcoming summit is likely to proceed along the same symbolic lines. There will likely be exchanges of gifts alluding to Korea's rich common history and personal tastes. Kim's father brought with him a stockpile of rare mushrooms as a gift – then reportedly worth up to $2.6 million – and was given a collection of South Korean movies in return. There will probably be declarations of friendship and mutual hope for the eventual reunification of the two Koreas. The delegations may bring members of families torn apart by the Korean War, whose ability to keep in contact has always been held hostage by the perils of politics. Seoul and Pyongyang may sign a document declaring an intention for a formal peace treaty sometime in the future – a gesture that would not require either side to change its claim to be the sole lawful government of the entire Korean Peninsula.
There may also be small practical steps – small because there is very little that Moon can offer that Kim would want without crossing certain lines. Renewal of tourist tours could work. Restarting business at the Kaesong Industrial Region, a project where the South's technology and the North's labor used to work to benefit both sides and build trust, is probably too much. After all, the US insists that Pyongyang should receive no economic relief before surrendering at least part of its nuclear arsenal. But the two parties may agree to withdraw some troops from the demilitarized zone as part of a de-escalation effort.
The fact is, however, that Moon is not the person Kim should be talking to about the core issues of the standoff. He cannot give safety guarantees that would convince the North Koreans that they don't need nuclear weapons anymore. He cannot have a resolution lifting the sanctions passed through the UN Security Council. Those things will presumably be negotiated with Trump sometime in May or June.
Image facelift
At the same time, the importance of symbolic gestures should not be underestimated. North Korea's problem has long been its image. Pyongyang has done some fairly bizarre things in the past, such as kidnapping Japanese citizens presumably for training spies or a prominent film director from the South to give a boost to its movie industry. Its human rights record – abysmal in itself – and isolationism spawned a host of activists who would tell horror stories to tabloids, which were never challenged even if their stories sounded ridiculous to the impartial observer. Incidents like the nerve agent assassination of Kim Jong-un's elder brother, Kim Jong-nam, don't exactly instill confidence either. Many hawks on North Korea say Pyongyang cannot be negotiated with.
Much of the North Korean Olympic charm offensive, which helped pave the way for the upcoming summit, was aimed at disproving such attitudes. Whatever backchannel agreements Kim and Moon had about not spoiling the games, the North Korean leader seems to have delivered on them. For his part, the South's president managed to address some of Pyongyang's concerns, agreeing with the US some changes to the recent joint military exercise that made them less aggressive towards the North.
When viewed as preparation work for a Kim-Trump meeting, the summit will help quell the voices calling for renewed hostilities, and make it somewhat harder to justify a no-compromise position for both sides. If everything goes smoothly, Moon would rightfully score extra points for his policies – something which would be handy for the June elections for local offices and for the seven recently vacated seats in the national parliament. The other players don't have much at stake in this week's meeting. Japan may complain about the summit dessert menu hurting the nationalist feelings in Tokyo, but it is Moon's show to run.
If you like this story, share it with a friend!
You can share this story on social media: