Thank you for your support! RT's #1917LIVE wins People's Voice Award at 'Oscars of the Internet'
Published time: 25 Apr, 2018 14:46
Edited time: 26 Apr, 2018 07:42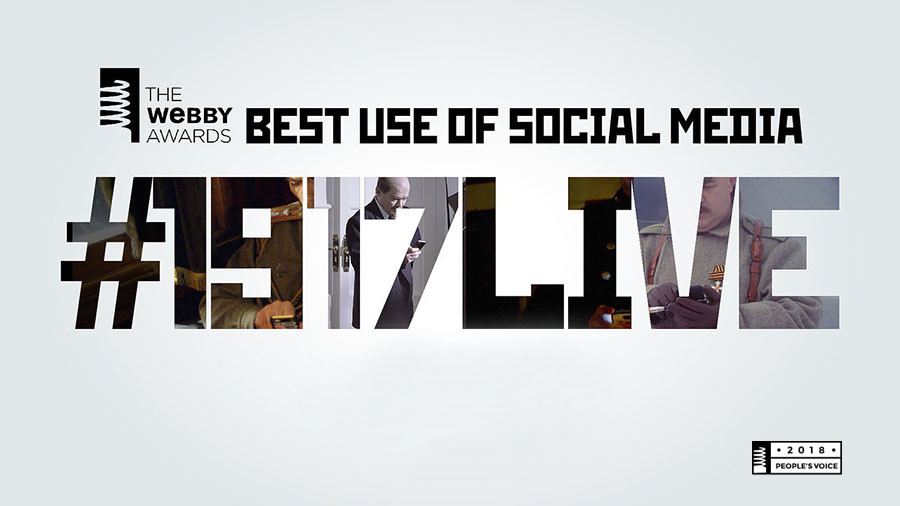 RT's interactive history project that told the story of the Russian Revolution in "real time" on Twitter has claimed the 2018 Webby People's Voice Award, winning people's hearts for the best use of social media.
Every single vote was important in the fierce competition in the Advertising, Media & PR category of the Webby Awards, a prestigious international prize for excellence on the internet.
"We are grateful to all those who voted for our project. This victory demonstrates how important and how necessary such educational social-media projects like #1917LIVE and #Romanovs100 are," Kirill Karnovich-Valua, the author of the idea, said.
The vote saw real drama towards the end when, after two weeks of leading the way, the project suddenly suffered a setback and dropped to second place, before managing to overcome the odds and regain the lead.
#1917LIVE became a real-time travel team as it reenacted the history of the Russian Revolution, recreating the lives of its main actors, including the last Russian tsar, Nicholas II, and revolutionary leader Vladimir Lenin, on Twitter. The major events of 1917 unfolded there in "real time," connecting history and the power of social media – and allowing anyone to join in.
The project's latest award is its 19th in a long list of domestic and international prizes it has claimed, including Gold in the Best Special Digital Event at New York Festivals TV & Film, as well as the winner of the Best in Education category at the Shorty Social Good Awards 2017.
RT'S new, but no less ambitious, digital project, #Romanovs100, was recently launched by the same award-winning team. It tells the story of Russia's last royal family, the Romanovs, through 4,000 of the family's personal photos recently unearthed in the national archives. The large-scale, cross-platform multimedia project takes place across four platforms – YouTube, Facebook, Twitter and Instagram – posting different content to immerse followers in the last years of the tragic royal family and imperial Russia.