German police deploy water cannon as football fans' celebrations descend into chaos (VIDEO)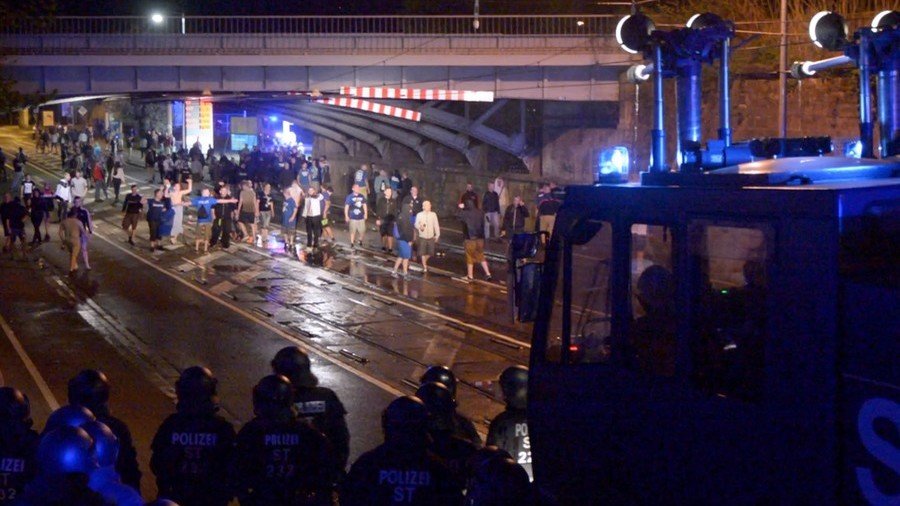 Outdoor festivities in the German city of Magdeburg unexpectedly ended up with massive clashes between football fans and police. The street brawls left dozens of police officers injured and more than 10 fans arrested.
On Saturday evening, local fans were celebrating their team 1.FC Magdeburg being elevated to the second Bundesliga – the second division of professional football in Germany. Some 2,500 people gathered in the city center. However, what started as an ordinary celebration soon descended into chaos.
The fans started to burn garbage on the streets. They also attacked fire fighters who arrived at the scene to extinguish the fires. The fans then started throwing bottles at police officers trying to assist the fire crew, Die Welt daily reports.
As the situation heated up, the fans also damaged some CCTV cameras installed on the central Hasselbachplatz square. A group of particularly bloody-minded fans, who had their faces covered, attacked the police by throwing stones and bottles at officers. Some 150 fans took part in the clashes, according to the German media. The police responded with pepper spray.
Eventually, police had to call in reinforcements and used water cannon to disperse the angry crowd and clear the central part of the city. Footage from the Ruptly video news agency shows large groups of police officers in riot gear slowly moving along the Magdeburg streets under cover from the water cannons.
According to local media, order in the city was restored overnight into Sunday. The clashes left 28 police officers injured. Eleven rioters have been detained.
Think your friends would be interested? Share this story!
You can share this story on social media: