Over 230 detained in Armenia as mass opposition protests continue (PHOTOS)
Published time: 20 Apr, 2018 17:12
Edited time: 23 Apr, 2018 13:47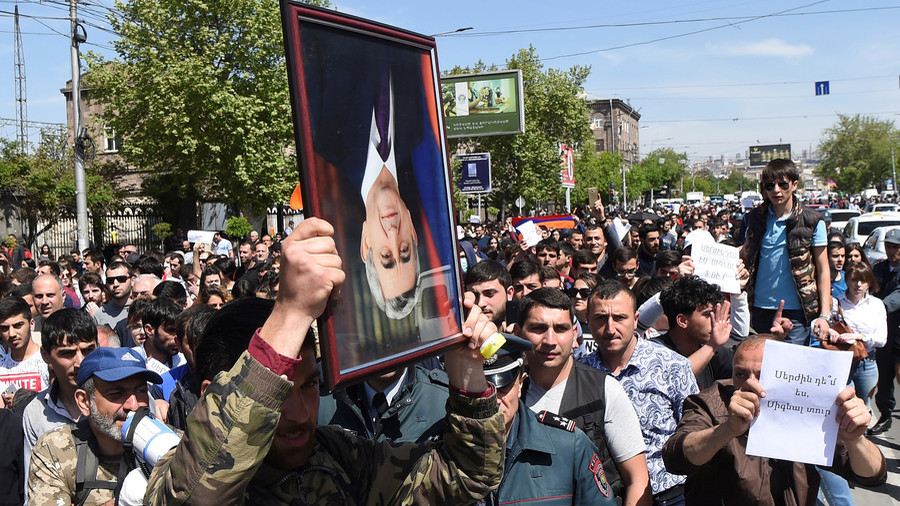 At least 233 people have been detained by police in the Armenian capital, Yerevan amid mass opposition protests against former President Serzh Sargsyan, who has become the new prime minister.
Protesters and motorists attempting to block the roads with their cars are among those detained, police say. "If the detained won't be released in due time, it means they are suspected of committing criminal offences," the police press service told TASS.
Earlier on Friday, the opposition leader, MP Nikol Pashinyan, urged his supporters to "paralyze traffic in whole Yerevan." Police warned that they were "ready to use force and special equipment to prevent protesters from committing offences."
Multiple photos and videos show trucks and other vehicles placed across streets at several locations, as well as protesters on foot trying to block traffic.
Police are reportedly using tow trucks to remove vehicles blocking traffic.
The protests began in Armenia last week following the nomination of former President Serzh Sargsyan to serve as the new prime minister. Despite the protests, the veteran politician, who was the only candidate, was voted in by 77 out of 94 MPs present at the National Assembly on Tuesday. Pashinyan urged the government to step down and called the ongoing protests a 'Velvet Revolution' in the making.
READ MORE: Armenian ex-president Sargsyan elected PM amid mass opposition protests
The post of prime minister became the key position of power after the switch to a parliamentary system in 2015. The opposition claims that Sargsyan promised not to seek the job, but broke that promise and attempted a "power grab."
The opposition party, Armenian Renaissance, has called upon the government to create a "political platform" to defuse the crisis. "Snap parliamentary elections might become a result of the [platform's] work," the party said in a statement on Friday. Armenian Renaissance failed to enter parliament in last year's election.
Think your friends would be interested? Share this story!