OPCW confirms UN team came under fire in Douma, mission delayed by security concerns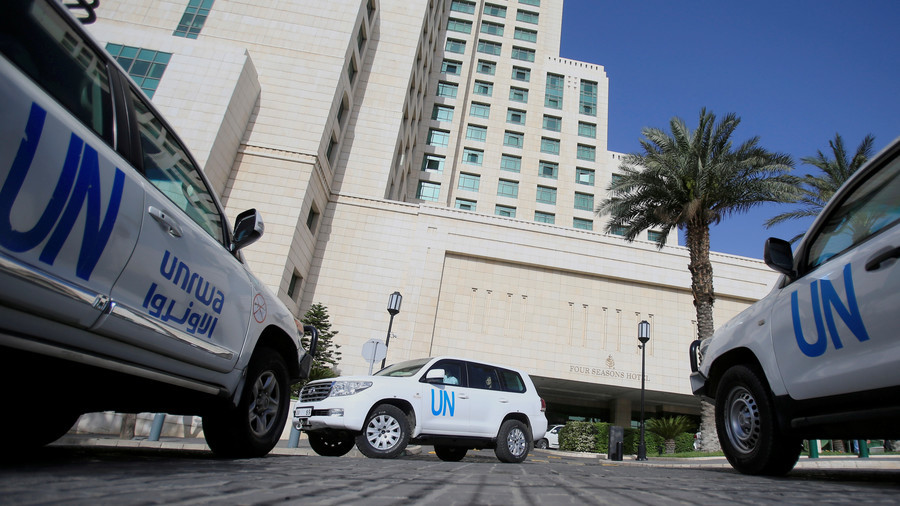 The OPCW fact-finding mission to Douma has been delayed from entering the town after a UN security team came under "small arms fire." Contrary to a US claim, the watchdog made no mention of delays caused by Russia or Syria.
A group from the UN Department of Safety and Security (UNDSS) tasked with surveying Douma visited two locations in the Eastern Ghouta town on April 17 before deciding to withdraw, the Organization for the Prohibition of Chemical Weapons (OPCW) said in a statement on Wednesday.
At the first site, the reconnaissance team was met by a "large crowd," and "the advice provided by the UNDSS was that the team should withdraw," a statement released by the OPCW said. At the second site, the team "came under small arms fire and an explosive was detonated." One Syrian security officer was injured in a resulting firefight, according to a statement by the Russian military. It is not clear who was behind the ambush. After the incident, the security team decided to return to Damascus.
"This incident again highlights the highly volatile environment in which the FFM [fact-finding mission] is having to work and the security risks our staff are facing," the OPCW's Director-General Ahmet Uzumcu said in the statement.
The UNDSS team will return to Douma as "soon as practically possible," Stephane Dujarric, spokesperson for the UN secretary general, said on Wednesday.
Washington had previously accused Damascus and Moscow of blocking the fact-finding team from reaching Douma. However, the statement released by the OPCW made no mention of any interference by the Russian or Syrian governments. In fact, the OPCW said it was working closely with Russian Military Police to review the security situation in Douma.
READ MORE: Moscow slams western media 'disinformation campaign' about OPCW experts being denied entry to Douma
This isn't the first security-related setback for the fact-finding team. The team's arrival in Damascus was postponed on Saturday after the US, France and Britain launched more than 100 cruise missiles at targets inside Syria.
Like this story? Share it with a friend!