Toulouse riots: Police attacked as woman arrested for refusing to remove Islamic face veil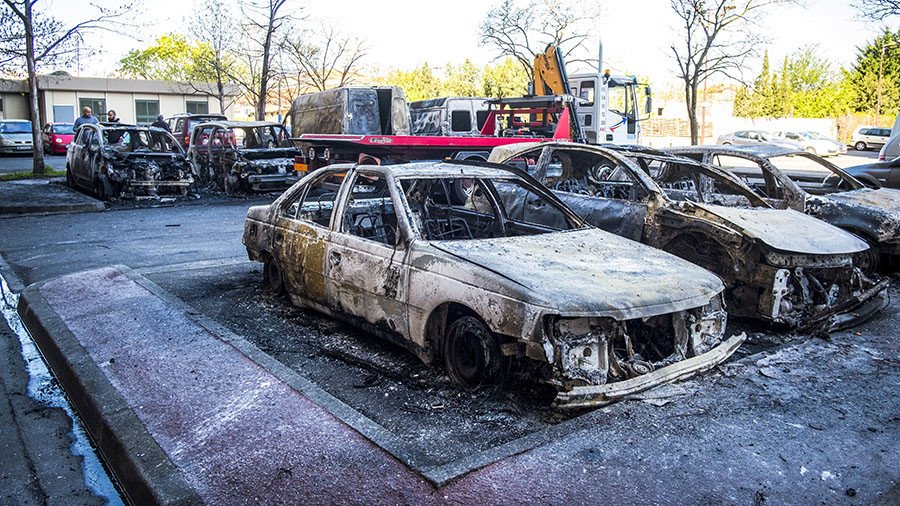 A deprived district of Toulouse, France has been rocked by two nights of furious riots, triggered by the arrest of a woman who refused to remove her Islamic full-face veil for police. Some 18 people were arrested.
Hundreds of police units were deployed after young residents threw stones, torched cars and set fire to garbage cans, police told the AFP. The clashes began on Sunday afternoon in the Toulouse district of Bellefontaine after a woman wearing a full-face veil – which is illegal in France – was stopped by the police for an identity check.
Nuit eprouvante pour les effectifs qui ont dû s'adapter et faire face à une situation atypique avec sang froid... Unité SGP condamne fermement ces agissements émeutiers et apporte son total soutien aux policiers Toulousains.

— UNITE SGP OCCITANIE (@USGPOCCITANIE) 16 апреля 2018 г.
She allegedly showed a poor-quality photocopy of her identity card and refused to lift her veil to let police officers see her face. After several futile attempts to have her lift the veil, the woman began to scream for help, France Info reports.
She was placed under arrest and moved into a police vehicle. Soon after, a group of about 30 people circled the police and attacked them. Officers attempted to quell the crowd by discharging their weapons and used tear gas launcher.
Along with the disturbances in Bellefontaine, there were also riots in Mirail and the neighboring district of Reynerie, which also began on Sunday evening. It's believed the riots are connected to the suicide of a prisoner incarcerated in Seysses near Toulouse, who was found hanged in his cell on Saturday.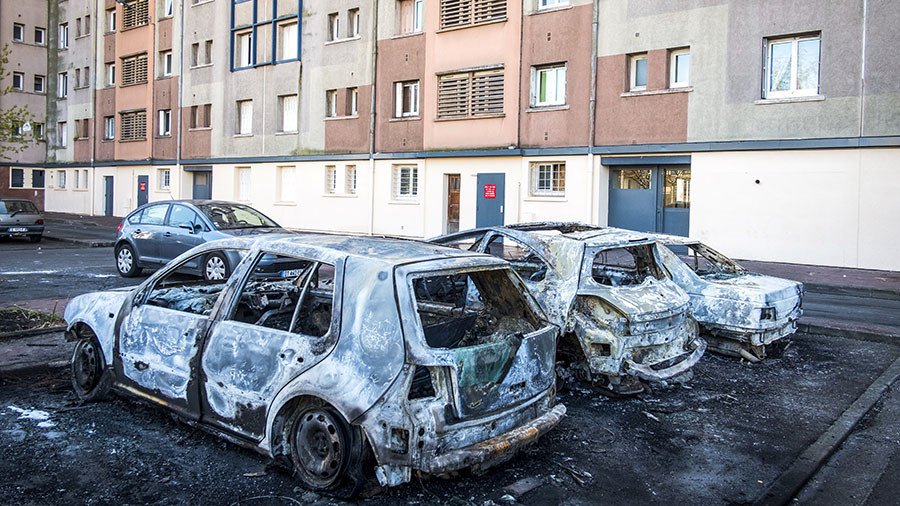 Hundreds of policemen were mobilised during the clashes in Reynerie with around 15 cars set on fire by rioters and around 300 tear gas grenades launched in the crowd.
"The clashes were extremely violent. My colleagues were very shocked, the events were very complicated to manage but they showed a lot of composure," said spokesperson Didier Martinez.
"There was clearly an intention to attack the police," said district police officer Arnaud Bavois describing scenes of "great violence" during the riots. The high-risk districts of Reynerie, Bellefontaine and Mirail in Toulouse, are identified as priority security areas.
You can share this story on social media: