'Rogue faction' led by US, France & UK made a mockery of intl law in Syria – analysts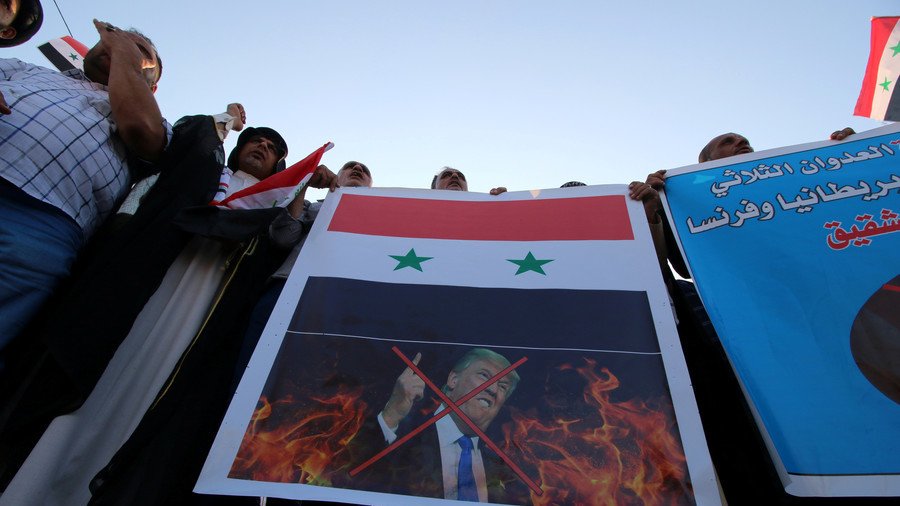 Slumping approval ratings and demoralized terrorists were among the largest benefactors of Saturday's tripartite missile strikes against Syria, while parliament and international law lost 'bigly,' journalists and MPs told RT.
"What the West is doing is playing into the hands of terrorists that have been terrorizing Syria for seven, eight years now," Mike Raddie, co-Editor of BSNews, told RT in reaction to the April 14 strikes. "So every time the West launches an attack, terrorists from within the country benefit from it. And they're the only people who benefit from it."
READ MORE: 'No release of chemicals is best proof there were none' – employee of bombed Syrian research site
Patrick Henningsen, the executive editor of 21stCenturyWire.com, said that the missile salvo launched by the United States, France and Britain also served to drum up public support for the faltering Western governments back home. According to Henningsen, US President Donald Trump "learned that you can get a bounce in the polls by taking some strong public military action, and certainly he did get that last year, he got that again this year."
Just hit 50% in the Rasmussen Poll, much higher than President Obama at same point. With all of the phony stories and Fake News, it's hard to believe! Thank you America, we are doing Great Things.

— Donald J. Trump (@realDonaldTrump) April 15, 2018
Bogged down by the seemingly endless Russia collusion accusations, Trump was desperate for some positive news coverage, Henningsen argued. "Donald Trump knows that if you declare war, you bomb a country, especially in the Middle East, that you will get the support of MSNBC, CNN, ABC, CBS –all the mainstream media outlets will line up behind the president and call him 'presidential,'" Henningsen told RT. "These are the same people who have been attacking him over Russiagate over the last 18 months. That shows you how shallow the American media and political complex is."
Trump may be particularly susceptible to negative media coverage – and desirous of a more cooperative, approving press – because the president "projects a sort of confidence, but I think he's tremendously insecure," Henningsen added.
Putin: History pinned blame on US for 'bloody carnage' in Yugoslavia & Iraq, same will be with Syria
The strikes were carried out by a "rogue faction within the UN Security Council" which has made a mockery of international law," Henningsen noted.
Others who spoke with RT about the strikes agreed, pointing out that transparency and the rule of law took a pounding from the missile attack.
British Prime Minister Theresa May's decision to not seek parliamentary approval for the attack sets a dangerous precedent, Raddie told RT, adding that since the Thatcher years, Parliament has always been consulted before taking military action.
"And at least that means there is a debate, the evidence – if there is any – is publicized, and it's discussed in Parliament openly and transparently. None of that has happened," Raddie said. "The reason is because there is no evidence. Theresa May is now citing what she calls 'open sources.' We know who these open sources are – it's Bellingcat, it's the White Helmets, which is funded by the UK Foreign Office. So their own sources are themselves. So they couldn't actually take a vote and publish that evidence because it would have looked absolutely ridiculous."
He added that it was very revealing that the US and its allies chose to launch their missiles before the Organization for the Prohibition of Chemical Weapons (OPCW) had a chance to conduct its on-the-ground fact-finding mission in eastern Ghouta.
Andrej Hunko, a German MP from Die Linke, said that his left-leaning party condemned the strikes as a "breach of international law."
"There was no European decision to be involved [in the attack], and this weakens as well the European foreign policy," Hunko told RT.
READ MORE: Strike on Syria legitimate as 3 UNSC members acted - Macron
He noted that the majority of Germans "don't want to be involved" in Syria, and called on Berlin to withdraw its forces from the country.
"There should be a return to international law, to rule-based international dealings," Hunko said. "We are for strengthening international organizations, not putting them aside, like it was done [in this case]."
Like this story? Share it with a friend!
You can share this story on social media: