Goal of Syria strikes was to prevent chemical watchdog's fact-finding mission in Douma – Moscow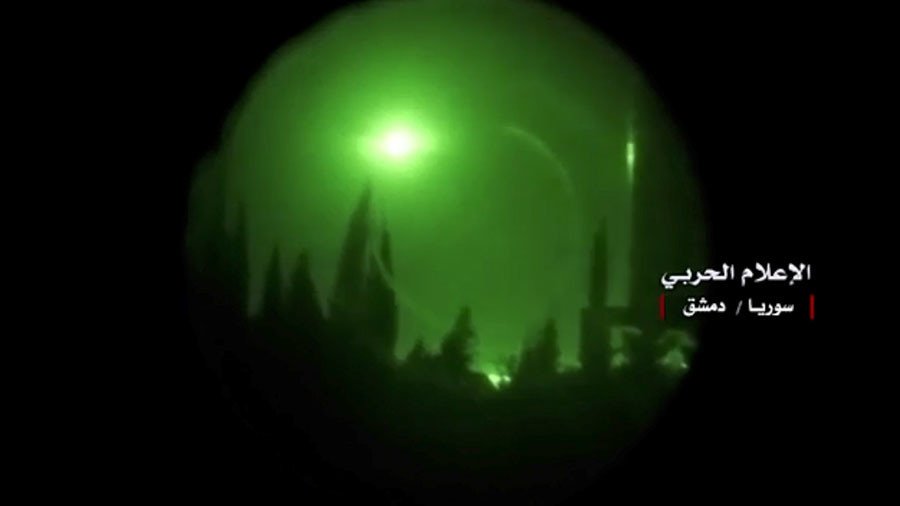 The US and its allies attacked Syria in order to hamper the work of the OPCW inspectors, investigating the alleged chemical attack in Douma, the Russian Foreign Ministry said.
The "intimidation act" by the US, UK, and France was carried out "under an absolutely far-fetched pretext of the alleged use of chemical weapons by the Syrian authorities in the Damascus suburb of Douma on April 7," the ministry said in a statement.
The airstrikes were conducted hours before inspectors from the Organisation for the Prohibition of Chemical Weapons (OPCW) were to start their fact-finding mission at the site. "There's every reason to believe that the purpose of the attack on Syria was to obstruct the work of the OPCW inspectors," the statement read.
Moscow pointed out that the Western allies ignored evidence provided by Syria and Russia that the alleged chemical attack was actually staged in a "cynical" manner.
"It's becoming absolutely clear that those in the West, who are hiding behind the humanitarian rhetoric and trying to justify their military presence in Syria with the need of defeating the jihadists, are on the same side as them [the terrorists], working towards dismembering the country," the Foreign Ministry said. It added that such conclusions are also backed by the unwillingness of the US and its allies to participate in the reconstruction or the areas liberated by the Syrian government.
The ministry also pointed out that the strikes were carried out when the Syrian troops's offensive against IS [Islamic State, formerly ISIS], Jabhat al-Nusra, and other terrorist groups was successful. "All facts point to the desire of the US and its allies to provide the radicals and extremists with an opportunity to gather their breath, restore their ranks, drag out the bloodshed on Syrian soil and thereby complicate the political settlement," the ministry said.
Russia has "strongly condemned" the Western missile strikes against Syria, slamming them as "a gross violation of the fundamental principles of international law, [and] an unjustified infringement of the sovereignty of the country."
Early on Saturday, Washington and its allies unleashed more than 100 missiles on civilian and military facilities in Syria in response to an alleged gas attack in Douma that has been widely blamed on Bashar Assad's government. Syrian air defense systems intercepted 71 cruise missiles and air-surface missiles fired by the Western coalition, the Russian Defense Ministry said, adding that none of its own air defense units were involved in repelling the attack.
Like this story? Share it with a friend!
You can share this story on social media: