Paris releases VIDEO of military planes taking off to bomb Syria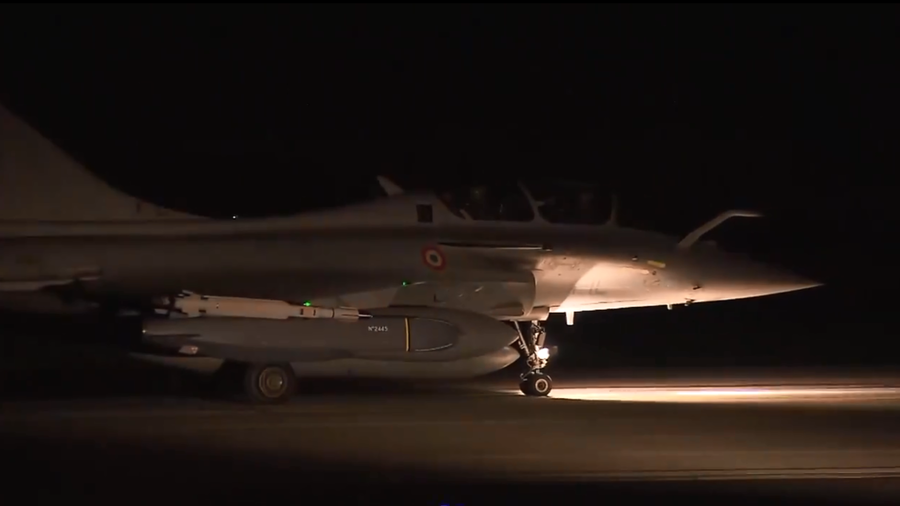 The French presidency has released footage of military planes taking off for Syria. The video comes hours after Emmanuel Macron announced the strike on Damascus, along with the US and the UK.
It's not yet clear if the jets were taking off from a military base or an aircraft carrier.
READ MORE: US, UK & France launch 'precision strikes' in Syria
In its statement, the Elysee Palace stresses that French armed forces are taking off against "the illegal chemical arsenal of the Syrian regime."
The presidency insists that "the facts and the responsibility" of the Assad government "are beyond doubt." However, Paris has not supported the statement with any evidence or sources.
Paris deployed Mirage 2000 and Rafale fighter jets in the strikes on Syria, a presidency source said, as cited by Reuters. The operation also included an air defense frigate, three multi-mission frigates, Airborne Warning and Control System (AWACS), as well as support and supply assistance.
The UK, US and French intervention in Syria came hours before the Organization for the Prohibition of Chemical Weapons (OPCW) team was scheduled to reach the town of Douma, located 10 kilometers from Damascus, on Saturday to determine whether a chemical weapon attack took place there last week. The alleged incident was reported by the pro-militant White Helmets group.
Macron has accused Damascus' government since Thursday, when he rushed to pin all the blame on the Syrian government for the alleged incident in Douma. The French leader claimed that "the regime of [Syrian President] Bashar Assad" used "at least chlorine" in Douma.
Think your friends would be interested? Share this story!
You can share this story on social media: