Iran warns US of response 'stronger than they imagine' if Trump scraps nuclear deal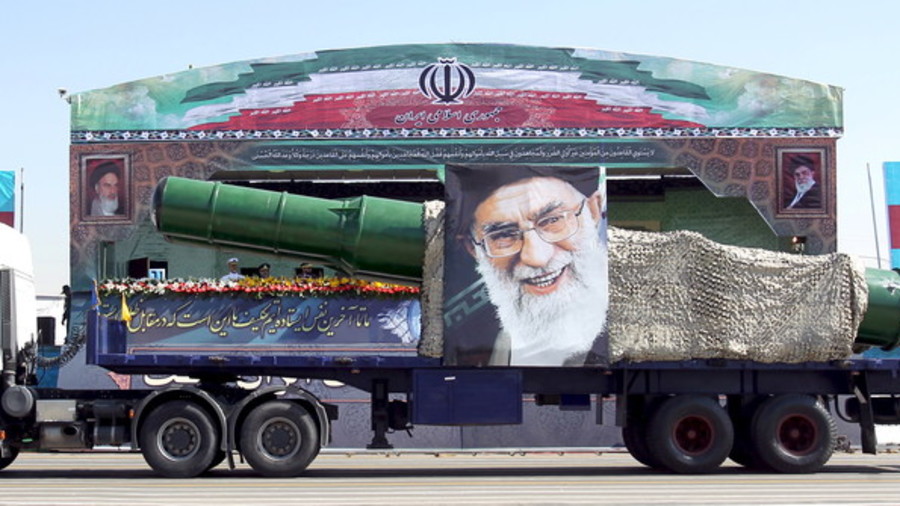 The Iranian president has warned the US that it will regret pulling out from the milestone 2015 nuclear deal and will see the consequences "in less than one week," should it go ahead with the much-discussed withdrawal.
"Iran will not violate the nuclear deal, but if the United States withdraws from the deal, they will surely regret it," Iranian President Hassan Rouhani said on Monday, during a ceremony marking the 12th anniversary of the National Day of Nuclear Technology. He added Tehran's response "will be stronger than what they imagine and they would see that within a week."
READ MORE: US reportedly mulling options in anticipation of Iran deal pull-out
US President Donald Trump "has big claims and many ups and downs in his words and actions [and] has been trying for 15 months to break the JCPOA [Joint Comprehensive Plan of Action]," Rouhani said, adding the landmark pact "is so strong that it has not been shaken by such quakes."
Sinking the deal would damage America's international reputation, while Iran would emerge in the global public opinion as a responsible and cooperative actor, the Iranian president said. "If they withdraw, it would mean that they are not committed to their words," he added.
Rouhani stressed that Iran could not afford to waste time in boosting its military capabilities, saying: "we will produce any weapons necessary to defend our country in such a volatile region… but we will not use our weapons against our neighbors."
Rouhani is not the only top official to warn the US over the nuclear deal. Last week, Ali Akbar Salehi, the head of Iran's Atomic Energy Organization, said "special conditions will arise" if Washington withdraws from the deal. Should Iran's leaders decide to act, there will be "a special surprise for those who scuttle the agreement," he said, as cited by Press TV.
"We are seriously looking to preserve our national interests and sovereignty, but if the United States withdraws and Europe and other great powers retreat from this agreement, we will definitely do something different," he added.
Rouhani's warning comes on the heels of reports that the Trump administration is floating strategies for pulling out of the JCPOA, colloquially known as the 'Iran nuclear deal,' and imposing sanctions again on Tehran.
The White House has set May 12 as the deadline for the deal to be renegotiated, and Trump has already threatened that Washington may pull out of the agreement if its demands to fix its "terrible flaws" are not met. Trump specifically called for the removal of the so-called "sunset clauses," which allow Iran to gradually resume nuclear activities in the next decade.
Trump notoriously described the agreement as the "worst deal ever negotiated" and repeatedly threatened to scrap it. Proponents of the 2015 accord say pulling out now would see Washington fall further behind in building lasting ties with Tehran. "If we pull back from what they have done, it will be 30 years before another president will ever sit down with Iranians to negotiate," former Secretary of State John Kerry, who helped negotiate the deal, said at the World Affairs Council at Villanova University last week. "Then we will be on track, if something goes wrong, of confrontation."
Adopted by Iran and leading world powers – namely China, France, Russia, the United Kingdom, the United States and Germany – the JCPOA stipulates that Tehran must reduce the number of its uranium enrichment centrifuges by two-thirds, cap the enrichment grade below the level needed for weapons-grade material, and reduce its enriched uranium stockpile by 98 percent for 15 years.
In exchange, the decade-old sanctions imposed on Tehran, relating to allegations of a secret nuclear weapon program, were lifted. The International Atomic Energy Agency (IAEA), the international body in charge of monitoring Iran's conduct as part of the deal, says Tehran has so far been in full compliance with its side of the agreement.
Think your friends would be interested? Share this story!
You can share this story on social media: