House call: Faulty tanker crashes into 18th century waterfront mansion (VIDEOS)
Published time: 8 Apr, 2018 05:00
Edited time: 8 Apr, 2018 11:37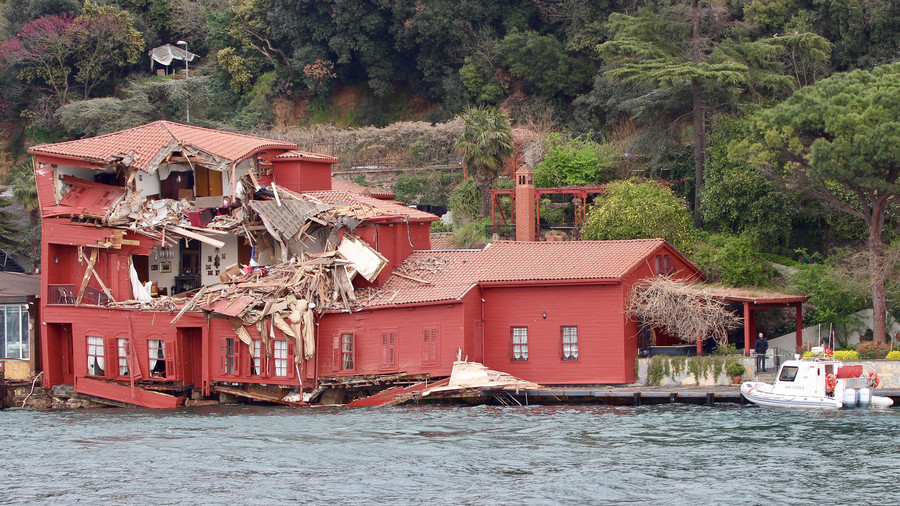 A Maltese-flagged tanker, carrying barley from Russia to Saudi Arabia, has destroyed a 19th-century waterfront mansion in Istanbul, after some technical malfunctions caused it to steer off-course while navigating the Bosphorus.
The entire incident, filmed from multiple angles by onlookers, unfolded shortly after 3pm local time on Saturday, after the large tanker 'Vitaspirit' entered the Bosphorus Strait from the Black Sea.
While sailing through the narrow waterway that connects Europe and Asia, the tanker suddenly experienced engine and steering mechanism problems, Istanbul authorities revealed, following the incident.
Unable to control their vessel, the crew of the 225-meter ship threw its anchor overboard, in an effort to slow down the velocity of the drift. Despite this, the vessel, carrying 62 tons of Russian barley to Saudi Arabia, headed off course and straight into a wooden mansion built on the waterfront in 1861. The spectacular accident occurred under the Fatih Sultan Mehmet Bridge, one of three crossings spanning the Bosphorus.
A number of rescue ships and tugboats were sent to the scene. Water traffic across the major shipping artery was temporarily halted before rescue teams managed to tow the damaged vessel. No casualties were reported in the collision. Authorities also said that no environmental damage was caused by the crash.
Think your friends would be interested? Share this story!