Israel calls in Air Force to target ONE 'armed terrorist' on Gaza border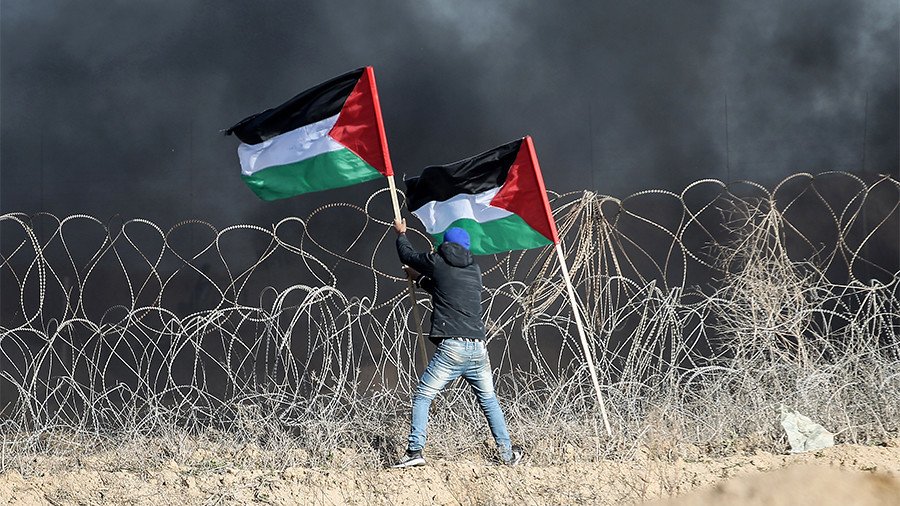 Israel has shown it is ready and willing to use the might of its air force, as it did in order to kill a single "armed terrorist" – a Palestinian man spotted at the border fence with Gaza.
"Overnight, an IAF aircraft targeted an armed terrorist adjacent to the security fence in northern Gaza," the Israeli Army said in a statement. It added that Israel Defense Forces (IDF) operations against "terrorists" will not allow "any harm to the security of Israeli civilians."
It is unclear what kind of aircraft or how many were dispatched for the operation. The Palestinian who came under Israeli fire succumbed to his injuries in Shifa Hospital in Gaza City, the Palestinian Health Ministry says.
This is only the latest case in which the Israeli military has rolled out its military might to target a handful of Palestinians. Last Friday, before the massive protests called 'The Great Return march' kicked off, an IDF tank volley killed one Palestinian and critically injured another after they approached the border fence.
Israel has only confirmed the shooting and said it was looking into claims that a person died as a result. The Palestinian Health Ministry said that those targeted were actually farmers.
Prior to the Friday protests, Israel warned Palestinians that it is prepared to use live ammunition against anyone trying to breach the border fence, even deploying over a hundred snipers to the area. Tanks, however, are apparently becoming the weapon of choice for the IDF, as another Palestinian was killed on Wednesday.
You can share this story on social media: