Russia, Iran & Turkey set to fight any attempts to fuel separatism and split Syria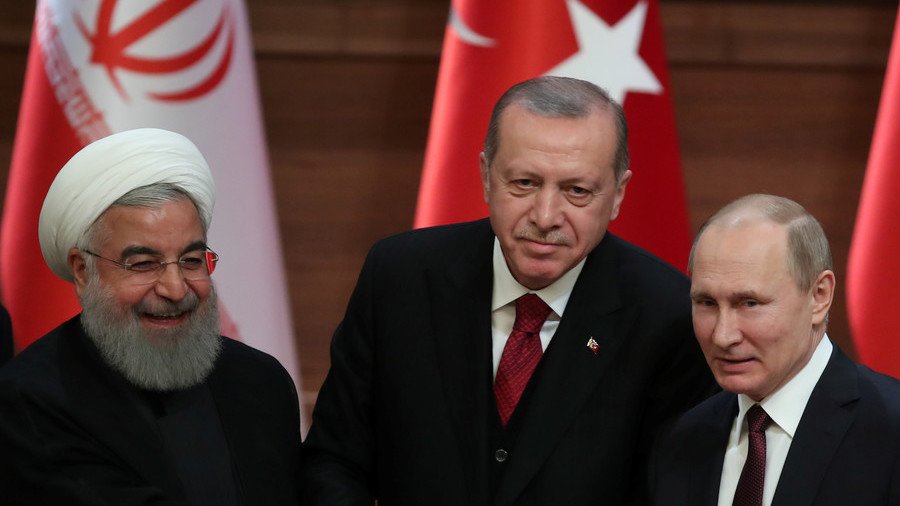 Preserving the territorial integrity and sovereignty of Syria through crushing terrorists and fighting foreign-sponsored separatism is a goal shared by Russia, Iran and Turkey, which they hope will bring peace to the region.
Russia's Vladimir Putin and Iran's Hassan Rouhani met in Ankara for a trilateral summit on Syria, hosted by their Turkish counterpart Recep Tayyip Erdogan. The leaders have reaffirmed the resolve of their countries "to oppose any separatist plans aimed at undermining the sovereignty and territorial integrity of Syria, as well as the national security of neighboring countries," according to a statement released after the summit.
The defeat of the terrorist remnants in Syria was described by the three leaders as a "common strategic goal," which must be reached to ensure lasting peace and to pave the path to an inclusive Syrian political solution to the years-long conflict.
"As our common strategic goal, we see the final defeat of the terrorists, who do not abandon attempts to destabilize the situation on the ground and are trying to undermine the peace process efforts," Putin said.
The military efforts against terrorism and separatism go hand-in-hand with the peace process and humanitarian efforts to help the Syrians. The three leaders urged the international community to step up and help Syrian people, instead of voicing only hollow promises.
"We urge all the countries to participate, instead of providing just lip service. Everybody talks about the necessity to join the humanitarian efforts, for instance, but in reality almost nobody besides Iran, Turkey and Russia does anything. We see small-time deliveries though the UN channels, but they are completely insufficient," Russia's president lamented.
While the joint statement did not explicitly point fingers at the forces behind the separatists in Syria, Iranian President Hassan Rouhani pinned the blame on the US and Israel during the joint press conference with his counterparts in the aftermath of the summit.
"They've been trying to topple the government, they wanted to spread chaos… They wanted to fuel insecurity in order to maintain their own interests but they have gained no success." Rouhani said, adding that the "illegal US presence and military intervention in Syria" are meant to ultimately lead to the "fragmentation of the country."
READ MORE: 'Open support for terrorism': Turkish deputy PM slams Macron's pro-Kurdish statement
Erdogan, in his turn, stated that "we all know who benefits" from terrorism and separatist activities in Syria. Turkey's leader has also reaffirmed his commitment to driving the Kurdish militias away from the country's borders. Ankara sees the militias as terrorists and an offshoot of the outlawed Kurdistan Workers' Party (PKK).
"I'd like to emphasize that, as long as we don't ensure security in all the regions controlled by the YPG [People's Protection Units], primarily in Manbij, we won't stop," Erdogan stated.
Like this story? Share it with a friend!
You can share this story on social media: