Alien vs Predator: Erdogan & Netanyahu vying for Mideast dominance – Blumenthal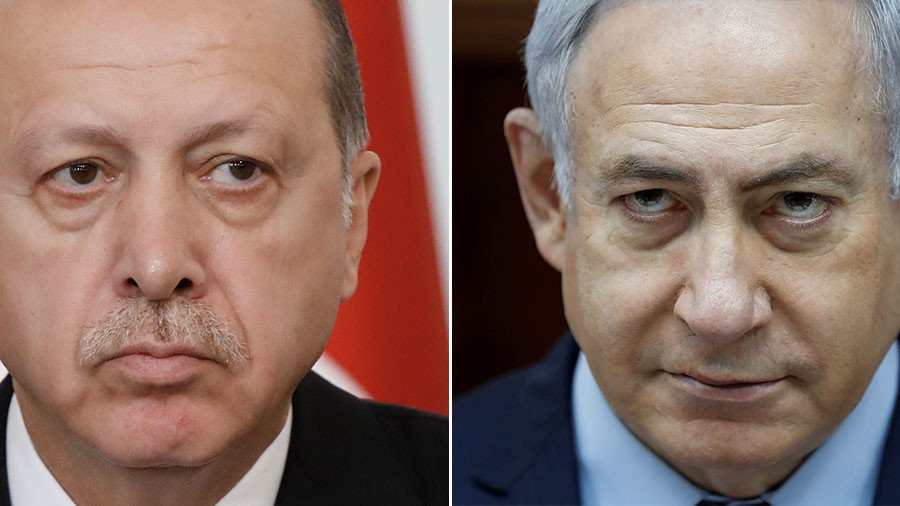 Benjamin Netanyahu and Recep Tayyip Erdogan accuse one another of mass human rights crimes and both are correct: neither can claim the moral high ground, both are battling from the depths of depravity, Max Blumenthal told RT.
Israel is being slammed for how its military is handling ongoing protests at the Gaza border. The annual 'March of Return', a demonstration denouncing Israeli occupation, has already left 17 dead and more than a thousand injured, according to the Palestinian Health Ministry.
World leaders have condemned Israeli actions against the protesters and were blamed for applying double standards by Israeli Prime Minister Benjamin Netanyahu. Turkish President Recep Tayyip Erdogan has launched a blistering attack on Netanyahu, calling Israel "a terrorist state" and its PM "a terrorist," following the deadly shooting of protesters in Gaza. The Israeli PM subsequently branded the Turkish leader "a butcher."
Author Max Blumenthal told RT that it appears like Netanyahu and Erdogan are blaming each other for basically the same things.
RT: The situation in Gaza has reignited an old Israeli-Turkish dispute. The two sides have already accused each other of being terrorist states. What's your take on that?
Max Blumenthal: I am slightly amused by the denunciations exchanged between Benjamin Netanyahu and the Turkish leader Recep Tayyip Erdogan. Both are accusing one another of massive human rights crimes and both are correct that one another has committed gigantic human rights crimes, Netanyahu in Gaza and against the Palestinian people in general, and Erdogan now in Afrin in Syria where over 100,000 have been displaced and there have been thousands of casualties. The irony of this spat between Erdogan and Netanyahu is that since the first real exchange of hostilities between Erdogan and Israel back in 2009, and then after the 2010 massacre of the Turkish activists on the Mavi Marmara flotilla on the way to Gaza, Turkey and Israel have substantially normalized relations and enjoy a lot of economic ties and even military ties as well. This is just hot air in rhetoric between two leaders who are really vying for dominance in the Middle East.
RT: Why do they appear to use almost identical accusations to describe each other, but in one case over Afrin, the other on Gaza. Do they both have a point, they both fight terror, yet both face widespread accusations of highly questionable actions?
MB: I compared this spat between Netanyahu and Erdogan to the 2004 film 'Alien vs. Predator' where two monsters battle one another to the death. In real life, as I mentioned, Netanyahu and Erdogan are cooperating below the surface. Neither man can claim the moral high ground. So, both are basically battling from the moral depth of depravity. And basically what each one is doing is catering to their right-wing base. Erdogan in Turkey with his right-wing Islamist AKP party. And Netanyahu in Israel with his right-wing Likud party. And this has been Erdogan's strategy. Erdogan is also speaking beyond Turkey trying to present himself as a leader of the Islamic world and the defender of the Palestinians. But he has substantially abandoned Gaza in many ways and he has done very little in practical terms for the liberation of Palestinians or for the relief of the 11-year-old siege on Gaza.
RT: Do you think Israeli Defense Minister Avigdor Liberman is fair to argue that the international community should first investigate all the deaths in Syria, Sudan, and Libya and only then shift attention to Gaza?
MB: There is enormous irony here in Israel and its allies and their reaction to what was nothing short of a massacre of unarmed protesters marching against an 11-year-old siege, living in one of the worst humanitarian situations in the world. The UN has found that Gaza will be unlivable within two years. I was just in the Gaza Strip and I found that to be the case for many people – there just simply isn't enough money or any economy for people to afford food. Food insecurity affects over 50 percent of the population. People are marching against that and they were shot down by over 100 Israeli snipers, they received artillery fire from tanks. Israel even tested a drone that dropped tear gas from the sky. And now we hear the Israeli defense minister declaring that the international community has no right to condemn this massacre. What is more, we saw Nikki Haley, the [American] UN ambassador who got up and showed pictures of dead Syrian children in Khan Shaykhun and delivered a bravado performance in April, 2017, demanding military intervention in Syria. Nikki Haley personally killed a UN resolution to condemn Israel for this massacre. So, the hypocrisy by Israel and its allies, particularly the US, is astounding in this case and it is a hypocrisy that contrasts [with] their behavior towards human rights violations in Syria, towards those committed by their client in Israel.
RT: Do you believe the UN call for investigation of Gaza violence is hypocritical, as Israel claims?
MB: The Israeli claim of hypocrisy by the UN is rhetoric we've been hearing from the country that has received the most condemnations from the UN in the world. And it is a country that consistently finds protection on the Security Council from the US. The hypocrisy that we've witnessed is really coming from the US and Israel because the US has protected Israel again and again against human rights violations while accusing the countries that it seeks regime change in – from North Korea, to Syria, to Iran – of massive human rights violations and seeks resolutions condemning them in many cases for defending against Western-led proxy wars and plots to overthrow their governments. So, the hypocrisy is really on the other side in this case.
Think your friends would be interested? Share this story!
You can share this story on social media: