Thousands of Christians in Aleppo & across Syria turn out for Easter celebrations (PHOTO, VIDEO)
Published time: 2 Apr, 2018 03:28
Edited time: 2 Apr, 2018 18:09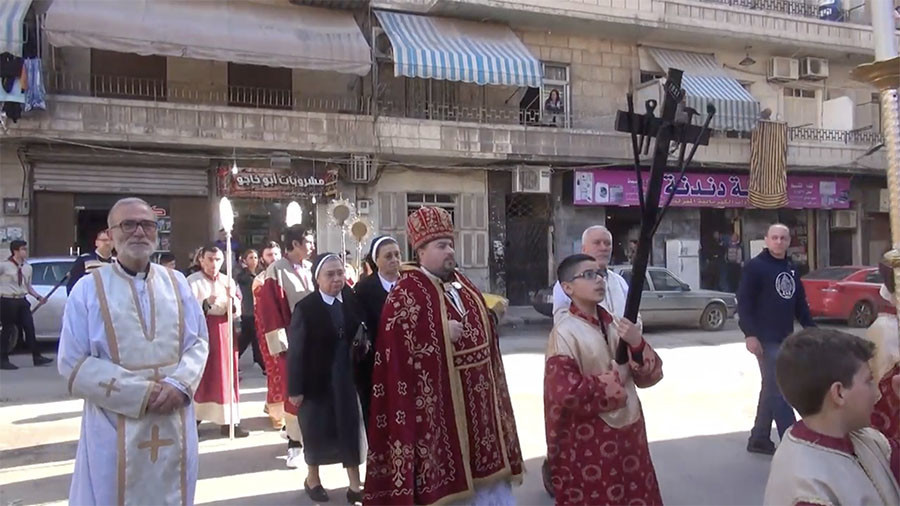 Across Syria, Christians came out to celebrate Easter, many in previously Islamist-held areas, where the festival had been discouraged or banned outright for several years.
Worshippers marched through the streets in Aleppo, Latakia and Damascus to mark Palm Sunday, commemorating the resurrection of Jesus, which fell on April 1 this year.
People filled the square in front of the Holy Cross Church in Damascus, the seat of the Greek (Melkite) Catholic Church, which was symbolically visited by Asma Assad, the country's first lady.
Aleppo, which was liberated in December 2016 by the Syrian army backed by the Russian military, enjoyed a more orderly celebration of Easter this year, compared to last year's defiant festivities in the ruins of the battle-scarred city.
Earlier, hundreds of Syrians joined a Good Friday mass at the city's Saint Francis Cathedral, which had been targeted in a missile strike in November 2015, when it was packed with 400 worshippers attending the Sunday mass. In what priests still label a "miracle," no one was hurt then.
Latakia province hosts Russia's Khmeimim airbase, which has played a key role in the Russian air campaign in support of the Syrian forces battling Islamic State (IS, formerly ISIS, ISIL) and Al-Qaeda affiliates. Moscow has highlighted the safeguarding of Christian worshippers and monuments as an impetus for its presence in the country at the behest of President Bashar Assad, since September 2015.
Easter celebrations on a smaller scale were held in the city of Tartus, the site of Russia's naval facility in Syria, in Homs countryside, as well as in other towns and villagers through the country.
Prior to the outbreak of the war in 2011, about a third of Syria's population did not belong to the majority Sunni Muslim faith. The government of Assad, who is a member of the minority Alawite, has always portrayed itself as a "protector" of the multi-religious and multi-ethnic nature of Syria, which is home one of the biggest Christian minorities in the Middle East.
As a result, most of the country's Christians, even those without particular regard for Assad personally, have flocked to the government's side, particularly in the face of the religious radicalization of the opposition and the systematic persecution of Christians in rebel-controlled areas. As a result, the government has trumpeted the return of religious freedom to once Islamist-controlled areas, and the local church has appealed to Christians abroad to recognize their struggle, which had largely been ignored by the pro-opposition Western media.
Syria was given a special mention by Pope Francis during his 'To the City and the World' address on Sunday. Addressing some 80,000 pilgrims in St Peter's Square, Francis rallied for a swift reconciliation in Syria.
"Today we implore fruits of peace upon the entire world, beginning with the beloved and long-suffering land of Syria," he said.