China slaps US with up to 25% bigger import tariffs in trade war retaliation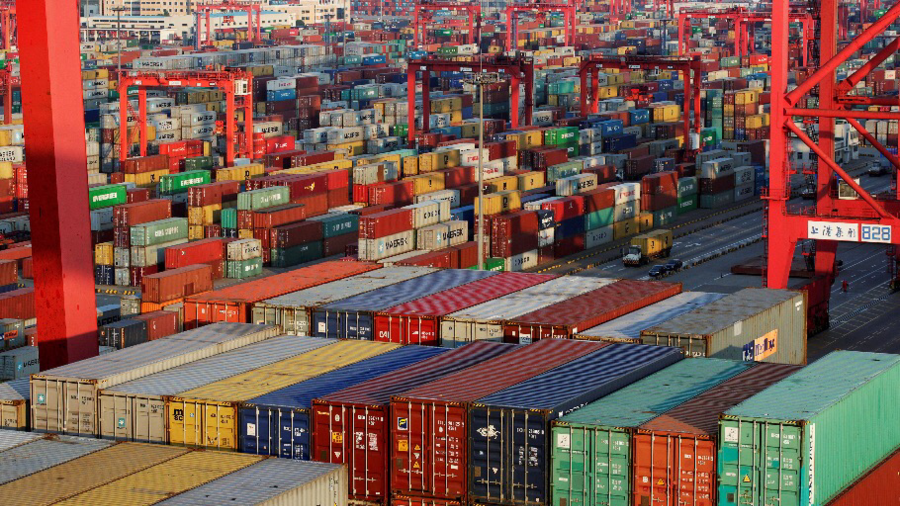 Beijing is hiking up tariffs on more than 128 US imports, including fruit and pork, as part of a tit-for-tat response to US President Donald Trump's $60 billion package of tariffs imposed against China.
The additional fares, which range from 15 to 25 percent, are taking effect on Monday, the Chinese Finance Ministry said on their website. It added that the measure, aimed at "safeguarding China's interests," was in response to Washington's package of tariffs targeting more than 100 types of Chinese goods, from clothing to electronics.
The statement said China has suspended duty concessions on imported goods originating from the US, and has imposed a duty rate of 15 percent on 120 items of imports, such as fruits and products. The tariff rate for eight items of imported goods, such as pork and food products, is now 25 percent.
China's current tax-free and tax-exemption policy "remains unchanged," the ministry noted, adding that the move comes in compliance with multilateral trading mechanisms and rules of the World Trade Organization (WTO).
Announcing the package of tariffs on March 22, Donald Trump said it will help the US reduce trade imbalances with China and curb theft of American intellectual property. Earlier, his administration accused Beijing of making "state-led, market-distorting efforts to force, pressure, and steal US technologies and intellectual property."
On March 23, Beijing signaled it was ready to go toe-to-toe with Washington's campaign against China, proposing new levies on 128 American imports. The news shook global markets, with fears of an imminent trade war between the world's largest economies looming.
China's Commerce Ministry also threatened to take legal action against the US through the WTO, and urged Washington to "pull back from the brink, make prudent decisions, and avoid dragging bilateral trade relations to a dangerous place."
Fears of escalating tariffs made stock markets plunge, with a broad sell-off among investors at the time. The Dow Jones Industrial Average dropped 2.93 percent (723.43 points), it was the lowest closing value since February 8. The S&P 500 Index sank 2.52 percent (68.24 points) at the close of trading, marking its lowest level since February 9. In Asia, Japan's Nikkei tumbled more than 3 percent, to its lowest level since October 12.
Commenting on the Trump administration's tariffs, WHO Director-General Roberto Azevedo condemned the move, saying that disrupting bilateral trade would "jeopardize the global economy at a time when economic recovery, though fragile, has been increasingly evident around the world," as cited by the Financial Times.
For more stories on economy & finance visit RT's business section
You can share this story on social media: