Noam Chomsky and John Pilger join calls demanding Ecuador stop 'gagging' Assange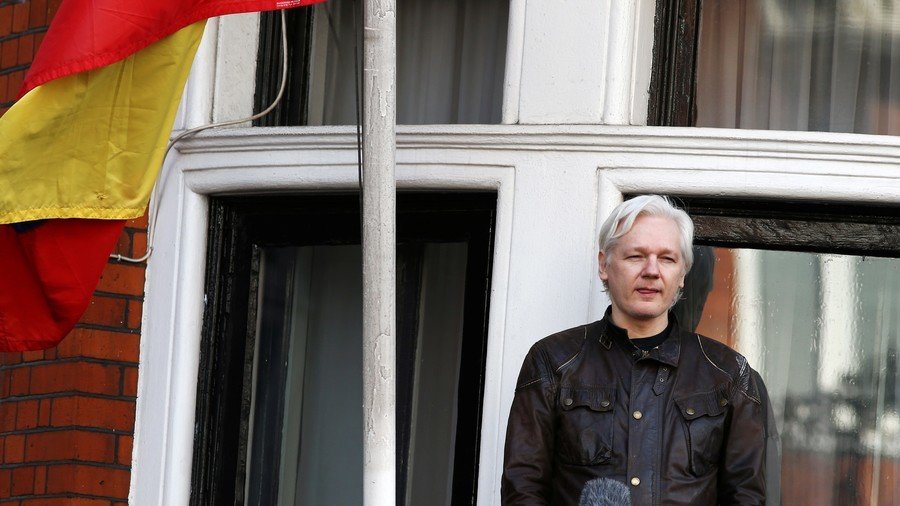 Human rights activists including Noam Chomsky, John Pilger and Pamela Anderson have published an open letter demanding that the Ecuadorian government restore Julian Assange's freedom of speech.
The WikiLeaks editor is living in virtual isolation within London's Ecuadorian embassy after authorities at the State Office scrambled his internet connection. The decision was taken due to Assange's critical remarks on social media regarding Catalan leader Carles Puigdemont's arrest.
It's understood that Assange will not be allowed to see visitors, after the Ecuadorian government said his recent actions had threatened good relations with nations like the UK and Spain.
READ MORE: Assange's internet connection cut following 'agreement breach' – Ecuador
A host of famous names have now come out in support of the WikiLeaks co-founder, and demanded that the Ecuadorian government reverse their decision to cut his internet access.
"We call on the government of Ecuador to allow Julian Assange his right of freedom of speech," the letter reads.
"[U]nder extreme pressure from Washington and its collaborators, another government in Ecuador justifies its gagging of Assange."
It adds: "This censorious attack on free speech is not happening in Turkey, Saudi Arabia or China; it is right in the heart of London. If the Ecuadorian government does not cease its unworthy action, it, too will become an agent of persecution rather than the valiant nation.
"If there is no freedom of speech for Julian Assange, there is no freedom of speech for any of us – regardless of the disparate opinions we hold."
READ MORE: 'Assange is a war hero, he exposed American war crimes' – Vivienne Westwood
Signatories of the letter including academic Noam Chomsky, musician Brian Eno, journalist John Pilger, and filmmaker Oliver Stone. Actress and animal rights activist Pamela Anderson has also endorsed the open letter, along with British fashion designer Vivienne Westwood.
In an exclusive interview with RT.com last week, Westwood described Assange as a "hero."
"Julian Assange is one of the greatest heroes of the world, we are very concerned now that he can't have visitors. It really important that he's got access to the world," she said.
Think your friends would be interested? Share this story!
You can share this story on social media: