Landslide unearths 3mn yo giant land sloth on Argentinian beach (VIDEO)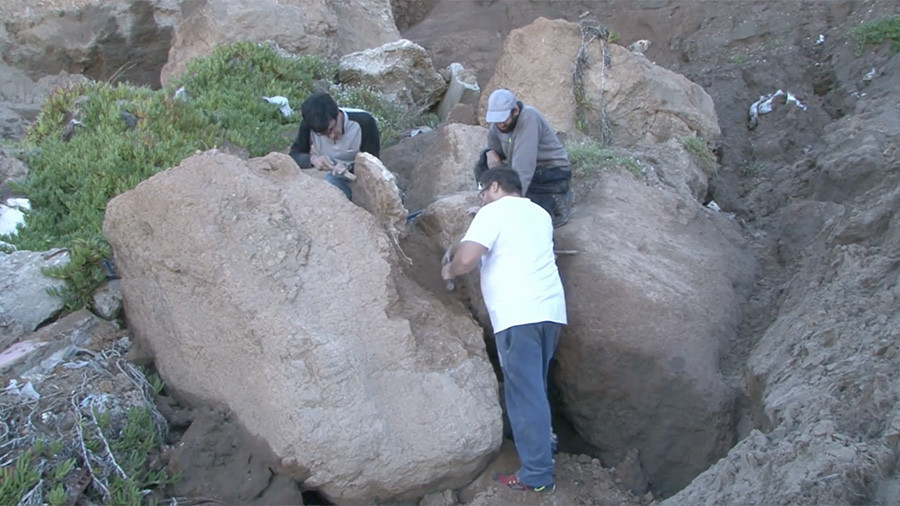 The remains of a giant sloth, believed to be more than three million years old, has been uncovered on an Argentinian beach.
The discovery was made by a couple, Marianela Amaya and Marcelo Lima, who were strolling along Serena beach in Mar del Plata on Argentina's Atlantic coast, Sunday. "We came to the beach, we were walking, Marcelo always climbs a little the sand dunes to see if he can find something, and he was the one who found it," Amaya told Ruptly.

Footage filmed Tuesday shows excavation work carried out by archaeologists from the Lorenzo Scaglia Municipal Museum of Natural Sciences in Mar del Plata. Matias Taglioretti, a paleontologist with the museum, described the find as "the remains of a giant terrestrial sloth which lived in the area three and a half million years ago."
"We found some of the anterior part of the animal with vertebrae, ribs and a hand which has quite a few joints," Taglioretti said. "We hope that, as the work continues, we can recover more fossil remains."
The bones were exposed after a landslide occurred at the cliffs above the beach. The fossils have been cleaned and archaeologists have created papier mache of the giant sloth bones.
It's thought that this species of sloth came from the Pliocene Epoch (5.3 to 2.6 million years ago). The last genus of these giant land sloths eventually died out around 5,000 BC in Patagonia. The coastal cliffs between Mar del Plata and Miramar in northern Argentina are home to one of the world's largest paleontological sites from the upper Cenozoic era.
READ MORE: First modern Brits were black, groundbreaking DNA test on 10,000-year-old fossil reveals
Like this story? Share it with a friend!