From 'hero' to terrorist: Savchenko arrested in Ukrainian parliament for plotting terrorist attack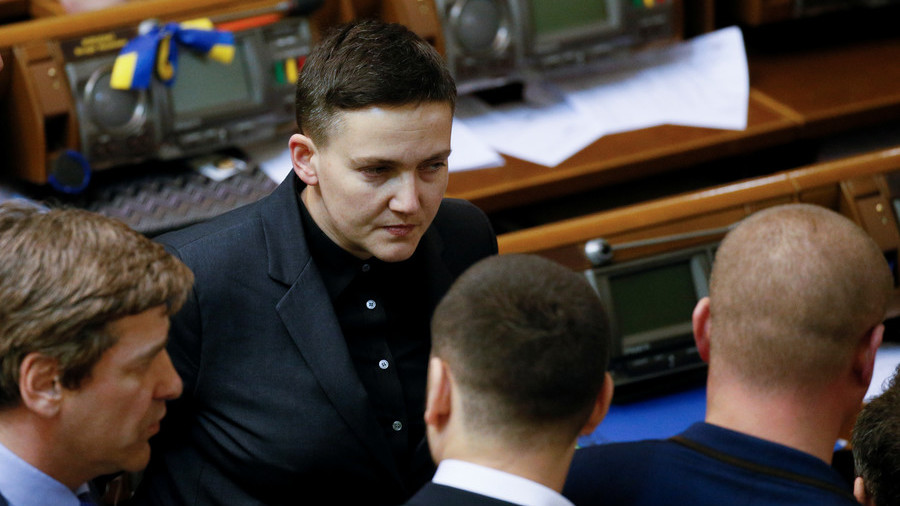 Ukrainian MP Nadezhda Savchenko, once glorified as a Ukrainian "hero" persecuted by Moscow, has been detained again – this time by her fellow countrymen. The former pilot is now suspected of plotting a coup and a terrorist attack.
Savchenko was arrested by Ukrainian Security Service (SBU) officers right in the building of the Verkhovnaya Rada (the Ukrainian parliament) on Thursday. Moments before that, the MPs stripped Savchenko of her legal immunity that allows Ukrainian MPs to enjoy protection from prosecution and agreed to her arrest.
The lawmakers were shown a video obtained by the Ukrainian Prosecutor General's Office that allegedly shows Savchenko discussing details of a coup plot with her accomplices. According to the video, the MP even planned to assassinate Ukrainian President Petro Poroshenko. She is suspected of plotting a terrorist attack, planning to kill members of parliament, government, and the president, and organizing a coup.
Savchenko's sister, Vera, said she expects Ukraine's international "partners" and particularly the US to react to her sister's arrest. "I would like to look at the reaction of those people, who fought for her [Nadezhda Savchenko], of the US representatives… I would like to see the reaction of these people to the actions of our corrupt authorities," she told journalists, adding that the US strongly warned against corruption in Ukraine, yet nothing was done.
Savchenko first rose to prominence both in Ukraine and in the West after she was arrested in Russia on charges of being an accessory to the murder of two Russian journalists who were killed by mortar shelling while reporting on the Ukrainian conflict. Russian law enforcement said she served as a target spotter for the mortar crew and deliberately had them target non-combatants.
Following her arrest in Russia, Savchenko was immediately declared a hero of Ukraine. She was elected as an MP in absentia, appointed a member of Ukraine's delegation to PACE and made into a symbol of struggle against Russia at a time when she was tried and actually sentenced to 22 years in prison for the crime. The Western media also portrayed her as a heroic figure persecuted by Moscow.
Savchenko was pardoned by Russian President Vladimir Putin and returned to Ukraine in May 2016.
But things changed for the former hero after she become a fierce critic of President Petro Poroshenko, talked about running for president, and acted on her own in an effort to make a deal with self-proclaimed independent republics in the East. She then quickly alienated many Ukrainian politicians.
Surrealism and grenades
On Thursday, Savchenko came to the hearing of her case in the parliament with two grenades. She admitted that she helped smuggle weapons from Donbass and said that a coup is the "the most humane way of changing the power." She claimed that "only a lazy person now does not" speak or think about "taking down that government" or "blowing up" the president's administration or the parliament. Yet, Savchenko called her actions "surrealism and political provocation," and she didn't actually intend to carry out the plan.
Savchenko's confrontation with authorities snowballed over the last week. The prosecutors initially wanted to question Savchenko over alleged links to a man named Vladimir Ruban, who was earlier arrested while trying to smuggle a large cache of weapons from the rebel-controlled part of eastern Ukraine into territory that remains under Kiev's control. The Ukrainian authorities claim that Ruban was also planning an armed coup in Kiev.
Ukrainian Prosecutor General Yury Lutsenko requested that the Verkhovna Rada strip Savchenko of legal immunity last week after she failed to show up for a scheduled questioning. Earlier, the MP accused Lutsenko of covering up his involvement in the deadly 2014 Maidan shooting, which was one of the factors that eventually prompted the Maidan coup. She also accused several Ukrainian MPs of leading the snipers to the Hotel Ukraine, from which shots were later fired at people on the streets, thus implying that the 2014 mass killings might in fact have been initiated by the protester side.