Italian city suspends opening of memorial to WWII soldiers – including Nazis – after outcry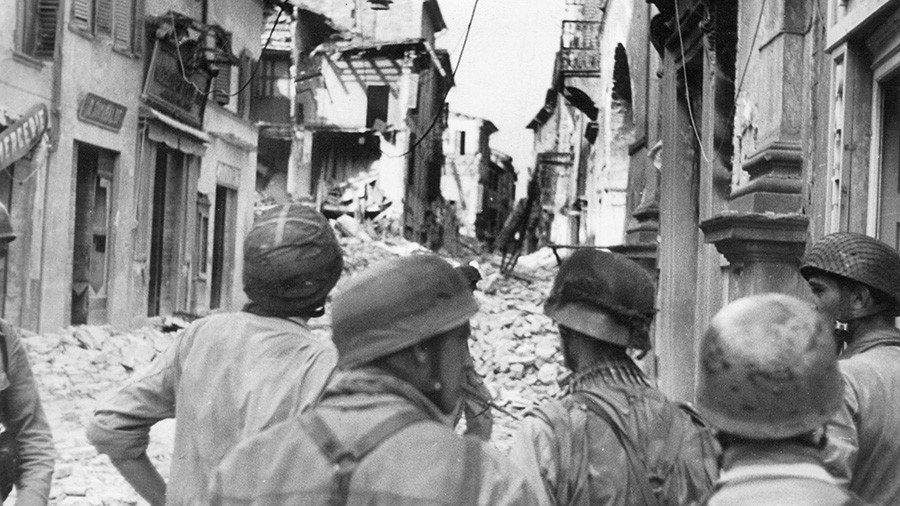 An unveiling ceremony of a memorial honoring soldiers of all nations who died during the World War II was canceled after public opposition. Critics said the monument would commemorate both Allied and Nazi paratroopers.
An association of hotel owners from the town of Cassino was poised to unveil the stone monument on Sunday in the Foltin cave at the foot of Monte Cassino, where German troops sheltered during air assaults by the Allied forces.
"In memory and recognition of the soldiers of all nations who fell in the bloody Battle of Cassino and all the civilian victims of the terrible war," the text on the memorial should have read in Italian, German and English.
However, the National Association of Italian Partisans (ANPI) lashed out at the initiative, calling it a "disfigurement."
"In all likelihood, [the memorial] equates the fighters for the liberation of Italy from occupation and slavery to Hitler's totalitarian atrocities with those who committed those atrocities to the detriment of Italians," read the ANPI statement, according to DW.
The president of the Lazio region, which encompasses the area, Nicola Zingaretti, also intervened, calling for "respect for history and memory."
"A serious gesture, a wound to the memory of the war of liberation and an insult to the understanding of history," he tweeted. Senator Maria Spilabotte decried the plans as it would be "a violent slap to the dignity of the martyr city."
However, Robert Molle of the Battle of Cassino association explained that the memorial was supposed to be one of the first descriptive signs to give tourists information on the fight's key sites, as well as to highlight the historical heritage of the area. "There were no political goals," he stressed. Town Mayor Carlo Maria D'Alessandro eventually advised against "any initiative that may disturb the memory and sensitivity of our city," prompting the Sunday inauguration to be suspended.
One of the longest engagements of the Italian campaign during the World War II, the 1944 Battle of Cassino claimed the lives of more than 50,000 Allied forces and 20,000 German soldiers.
Think your friends would be interested? Share this story!
You can share this story on social media: