Syria's Eastern Ghouta militants prepare chemical attack provocation, Russian MoD tipped off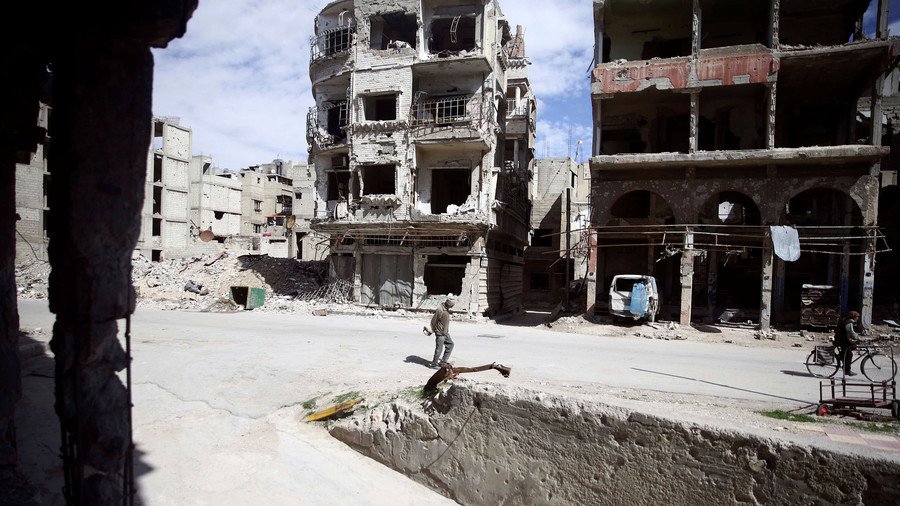 Militants holed up in Eastern Ghouta are preparing to stage a "false flag" attack to accuse the Syrian government forces of using chemical weapons against civilians, Russia's Defense Ministry said, citing a tip from a local.
On Monday, the Russian Reconciliation Center received a phone call from one of the residents of the al-Wanar quarter of Eastern Ghouta, who warned of possible preparations for a "provocation" with the use of chemical agents. According to the tip-off, Tahrir al-Sham (formerly Jabhat al-Nusra) terrorists have placed "hermetically sealed containers," which could contain poisonous substances, next to a self-engineered turbine on one of the roofs in the Damascus suburb.
"The terrorists, according to [the caller], could use those preparations to spray chemical agents in residential areas, which will lead to a large number of casualties among civilians," Major-General Yuri Yevtushenko announced on Monday. "The mass poisoning of civilians will be used to accuse the government troops of the use of chemical weapons against peaceful citizens."
This is not the first time Moscow has raised concerns about possible provocations using chemical agents in Syria. Russia believes that such an attack will be widely covered in the Western media and may ultimately be used as a pretext by the US-led coalition to launch strikes against Syrian government forces.
Washington repeatedly warned that it would conduct more air strikes against Syrian forces if chemical weapons are used in the country. French President Emmanuel Macron also promised to "strike" Syria if any evidence emerges that chemical weapons were used against civilians.
In January, just before various factions of Syrian society gathered for the Syrian National Congress in Sochi, reports of a chlorine gas attack on the outskirts of the Syrian capital were used to attack the legitimacy of the reconciliation process. At the time, former US Secretary of State Rex Tillerson took advantage of the alleged attack to blame Russia for all the chemical weaponry-related incidents in Syria, regardless of who actually conducted it.
Since last month, Syrian government forces have been carrying out operation Damascus Steel to clear east Ghouta of armed Islamist units that have been terrorizing the locals for years. After the UN Security Council unanimously adopted a resolution proposing a 30-day humanitarian ceasefire in Syria, the Russian Reconciliation Center has been focused on evacuating civilians out of militant-controlled east Ghouta.
"Since the beginning of the humanitarian operation, 79,702 people have been evacuated from the East Ghouta with the help of the Russian Centre for Reconciliation. Most of them are children," the MoD noted Monday, adding that "their lives are out of danger now."
Think your friends would be interested? Share this story!
You can share this story on social media: