Russian military's drones & cams show E. Ghouta humanitarian corridors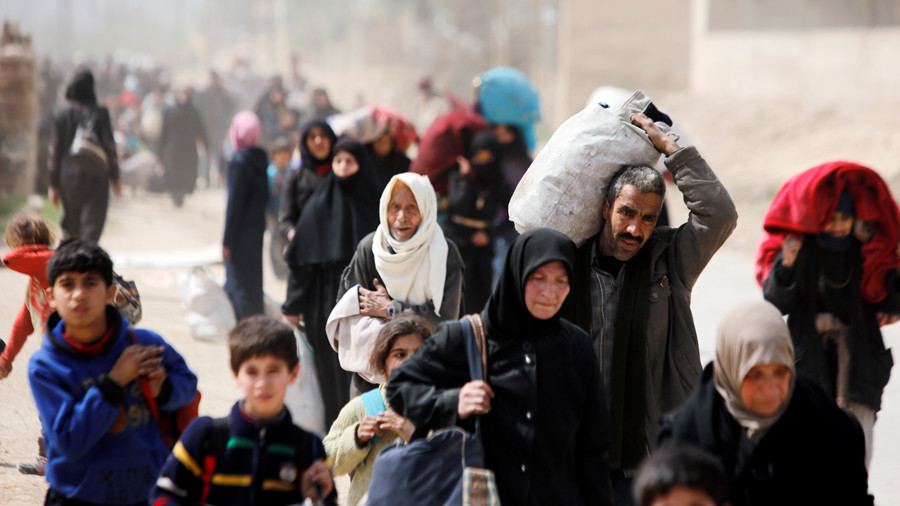 Syrian civilians are being evacuated from the Eastern Ghouta area near Damascus via humanitarian corridors set up by the Syrian Army and the Russian military. The Russian Defense Ministry is streaming live images from the scene.
READ MORE: Thousands evacuated as families, injured leave E. Ghouta during ceasefire (PHOTOS, VIDEO)
As many as 13,000 people have managed to leave the besieged Eastern Ghouta in what is believed to be the largest exodus in two days in the country's seven-year war, according to the latest data from the Russian Defense Ministry on Friday. March 15 marked the somber seventh anniversary of the Syrian conflict.
Civilians, mostly elderly people, women and children, have been seen grabbing what they could carry and walking with their belongings towards the camp located in the nearby el-Dueir area.
Those leaving the area report to have been living in constant fear of being killed by militants for any perceived wrongdoing. Local resident Adnan Kafozy shared his relief at being saved from the regime of the extremists. "They were very unfair to us. I cannot describe everything," he told Ruptly.
Locals say that their way out often wasn't safe – militants shelled civilian areas to prevent locals from leaving the war-ravaged enclave. "We spent the whole week in the tunnels trying to protect our children from the indiscriminate bombing of terrorists," Kafozy recalled.
Terrorists in the militant-held suburb near the Syrian capital of Damascus are said to have imposed a curfew and severely punished those who showed any sign of disobedience. "We wanted to leave but the insurgents did not allow us to," a local woman tearfully told Ruptly. As recently as Monday, terrorists killed nine people during protests against being held hostage in the embattled Damascus suburbs, the head of Russia's General Staff, Valery Gerasimov, said.
The number of people who have left Eastern Ghouta in two days may reach 25,000, Damascus Countryside Governor Ala'a Ibrahim told RIA Novosti.
Think your friends would be interested? Share this story!