'Turkey not a NATO country?' Erdogan slams allies' refusal to support his offensive in Syria's Afrin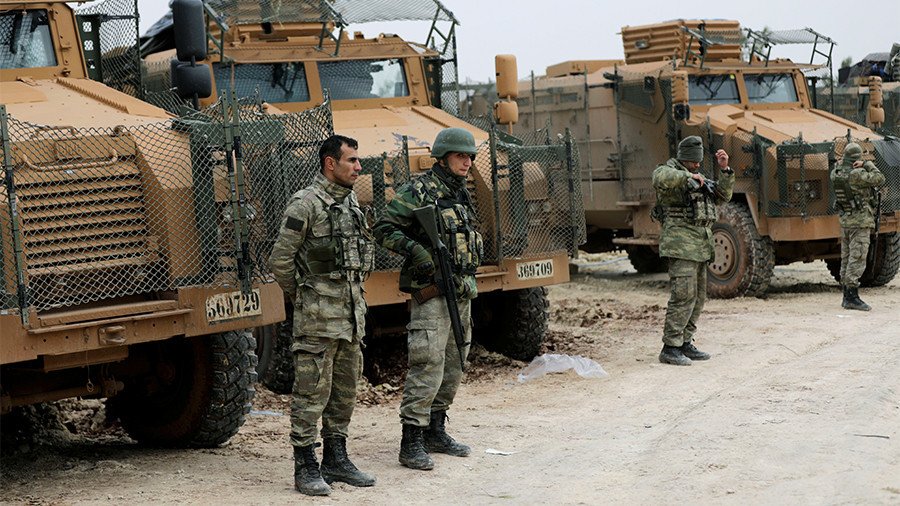 Turkey's leader has scorched NATO allies over their failure to support his "counter-terrorist" operation in the Kurdish-held Syrian region of Afrin, but expressed gratitude that they at least had no guts to openly oppose Ankara.
President Recep Tayyip Erdogan delivered the inflammatory comments while speaking before a gathering of his ruling AK Party in the Turkish city of Mersin on Saturday.
"Hey NATO where are you? We're fighting so much. NATO, Turkey is not a NATO country? Where are you? You've invited NATO-member states to Afghanistan," Erdogan said.
NATO members not only show no support towards Turkey's Operation Olive Branch and would even openly oppose Ankara's actions in Syria, but did not have the guts to do so, Erdogan claimed. The offensive against Kurdish militias in Syria's region of Afrin was launched late in January. Turkey describes the militias as offshoots of the terrorist-labeled outlawed Kurdistan Workers' Party (PKK). So far, 3,213 "terrorists" have been killed during the operation, carried out by Turkish troops and affiliated Free Syrian Army (FSA) militants, Erdogan stated.
"In fact, they would openly oppose Turkey in Syria if they could. But seeing Turkey's adamant position, they did not find [the] resolve to do so," the president said.
The Turkish leader also reiterated his earlier statements, that his only goal in Syria was the "fight against terrorism." When Ankara reaches it, the troops will be pulled out of the country, he stated.
"Turkey's goal is not capture of the territories of the other states, but only elimination of the terrorism threat in the region. Turkey will fight terrorists anywhere they operate," Erdogan said, once again promising new military operations in Syria, including in the areas held by the US-backed Kurdish-led militias.
Washington has repeatedly called upon Turkey to stop its "aggression" against the Afrin region, omitting the fact that the US-led coalition itself spent years in Syria without any invitation from the government or international approval. The recent UNSC resolution, which urged a 30-days Syria-wide ceasefire, has been also used to call upon Erdogan to halt the invasion.
"Turkey is more than welcome to go back and read the exact text of this UN Security Council resolution, and I would suggest that they do so," US State Department spokeswoman Heather Nauert said on February 27, stating that the Afrin region was "certainly within Syria."
The calls have been dismissed by Turkish officials, who insist they are fighting against "terrorists," while Afrin was not explicitly mentioned in the resolution. The document, however, only stated that the ceasefire did not apply to such groups as Islamic State (IS, formerly ISIL/ISIS), Al-Qaeda and Al-Nusra front, and did not describe any Kurdish militias as terrorists.
Earlier this week, the Pentagon announced an "operational pause" in the fight against remnants of IS in eastern Syria, admitting that Turkey's activities in Afrin affected the coalition's capabilities. Some US-backed militias in Syria have switched their priorities from fighting IS terrorists to battling Turkish troops and affiliated FSA militants.
If you like this story, share it with a friend!
You can share this story on social media: