Russia's new hypersonic missile put through military tests (VIDEO)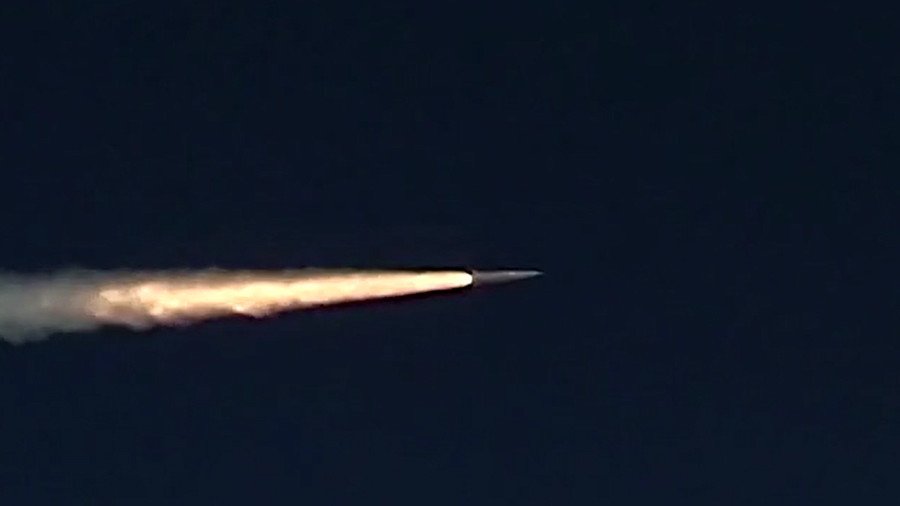 A video showing a new set of tests of the cutting-edge hypersonic Kinzhal missile has been released by the Russian Defense Ministry. President Vladimir Putin earlier said the weapon is designed to penetrate any possible defenses.
The footage features a pair of MiG-31 aircraft carrying a single Kinzhal on its under-fuselage pylons. The planes take off and launch the 'Kinzhal' (Russian for "dagger") missiles during high-altitude flight.
The video shows the very moment of the missile launch. The projectile can be seen detaching from the plane's belly, shooting off the engine shroud and swiftly blasting away, leaving only a trail in the skies.
The new missile is currently undergoing tests and the pilots involved are getting a grip of the cutting-edge munition during their routine service, Col. Valery Antsibor, deputy commander of Russia's main test-piloting center, said. Tests of this nature also help the ground crews and all other military personnel involved to get familiar with the new missiles.
READ MORE: Hypersonic nukes & missiles of unlimited range: Newest additions to Russia's arsenal (VIDEOS)
The new weapon was unveiled on March 1 by Russia's President Vladimir Putin, with a range of other new arms, which include a nuclear-powered drone submarine, a combat laser system and even a nuclear-powered cruise missile of "unlimited range."
The 'Kinzhal' missile has an effective range of 2,000km and can travel 10 times faster than the speed of sound. The munition is highly maneuverable and can reliably penetrate all the existing and even prospected air-defense systems, according to Russia's President. The Kinzhal can be fitted with nuclear or conventional warheads.
Like this story? Share it with a friend!
You can share this story on social media: