Roaring cannons: Massive US-led artillery drills kick off in Europe (PHOTOS, VIDEOS)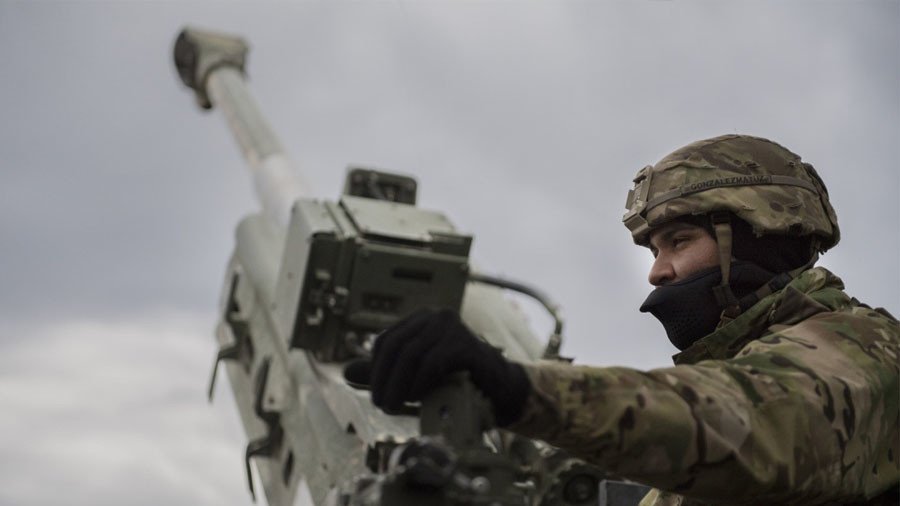 The US Army has started a massive artillery exercise, involving thousands of troops from NATO nations as well as heavy howitzers, multiple launch rocket systems and mortars.
Some 3,700 troops from 26 NATO member states, including the US, the UK, France and Germany, have arrived at Grafenwoehr range (in Germany) along with their heavy weapons, according to US Army Europe's (USAEUR) training command. The exercise Dynamic Front 18, which will last until March 10, has a stated goal to "develop the capabilities of US and allied fires units to operate side-by-side, from identifying targets at a multinational, theater-level command to tactical units."
NATO's Allied Rapid Reaction Corps, American 1st Infantry Division and German 10th Armored Division, as well as live batteries and close-air support from the Czech Republic, France, Germany, Poland, the United Kingdom and the US are also said to be in attendance.
The organizers of the drills say Dynamic Front is meant to prepare NATO's artillery units for wartime operations. Major General Timothy McGuire, the deputy commanding general of US Army Europe, called it "a great readiness-building exercise," as quoted by Stars and Stripes.
As part of the drill, gun crews will be allowed to move freely around Grafenwoehr and choose any firing position they want to shoot from. "We're trying to bring back the flexibility to let the artillery train as they're actually going to fight in the real world and operate as they were designed to,"said Lieutenant Colonel Jeffrey Anderson, chief of Grafenwoehr range operations.
The news comes amid reports that NATO is planning to stage another large military exercise close to Russia's borders. General Robert Neller, Marine Corps commander, told the House Appropriations Subcommittee on Defense "the largest amphibious exercise" Trident Juncture will take place in autumn this year, according to a live broadcast uploaded by the subcommittee.
Russian defense officials have consistently warned that NATO has significantly bolstered its military presence on Russia's Western border over the past five years, with the buildup forcing Moscow to take retaliatory steps. "Since 2012, the strength of NATO military contingents deployed at Russia's western borders has grown three times," Russian Defense Minister Sergey Shoigu said in December last year.
READ MORE: NATO wants Europe's civilian infrastructure ready for war
The buildup included four NATO battalion-size tactical groups and a US armored brigade deployed in the Baltics and Poland, with the staffs of international NATO divisions in Poland and Romania. The number of engagement-ready troops has grown even more, from 10,000 to 40,000, the minister said.
Over 30 drills are being held each year at Russia's western borders, and their scenarios were based on military confrontation with Moscow, according to Shoigu. Russia, for its part, "carefully watches every NATO exercise and takes steps accordingly." The joint Russia-Belarus strategic exercise Zapad-2017 which took place in September last year has been named as one of the most important measures for strengthening Moscow's defensive capabilities.
Think your friends would be interested? Share this story!
You can share this story on social media: