Expectant mothers can now get a 3D model of their unborn baby (VIDEO)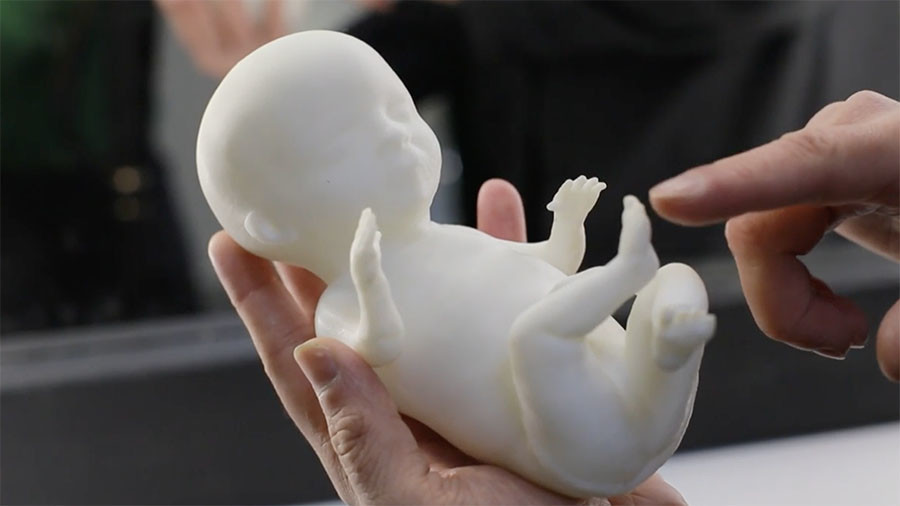 Expectant parents can now print models of their unborn children using ultrasound photos. The models can be 3D-printed in plastic and even in precious metals such as silver, gold and platinum.
The service offered by Russian company Embryo 3D uses the ultrasounds to precisely 3D-print incredibly detailed models, which include the baby's face, hands, feet and umbilical cord. The head of Embryo 3D Ivan Gridin says he was inspired to set up the company due to his friends anxieties about her unborn child.
"I have a friend, her name is Veronika, she was worried about the health of her child and wanted to see it," he explained. "She had an ultrasound several times, but it wasn't enough. I was fond of new technologies at that time and 3D-printing. And I said 'let's print it.'"
Initially the company made the models entirely from plastic, but now they can make plaster models and cover them with precious metals. Expectant mother Yuliana Recun, who took part in the process in the city of Ufa on Wednesday, said: "We ordered a 3D model of our child, which is in my belly now. It is weird feeling, the child hasn't been born yet and but you can touch it and feel it as it is."
The models are an advancement on the earlier practice of using 3D and 4D ultrasounds to monitor the development of babies in the womb. Discussing that technology, in a publication by the Radiological Society of North America, Dr Deborah Levine said: "Patients, of course, love 3D pictures, but as radiologists we have to be careful that we're not performing an ultrasound for the fun of it."
Like this story? Share it with a friend!
You can share this story on social media: