'Why would we want a world without Russia?' Putin on Moscow's nuclear doctrine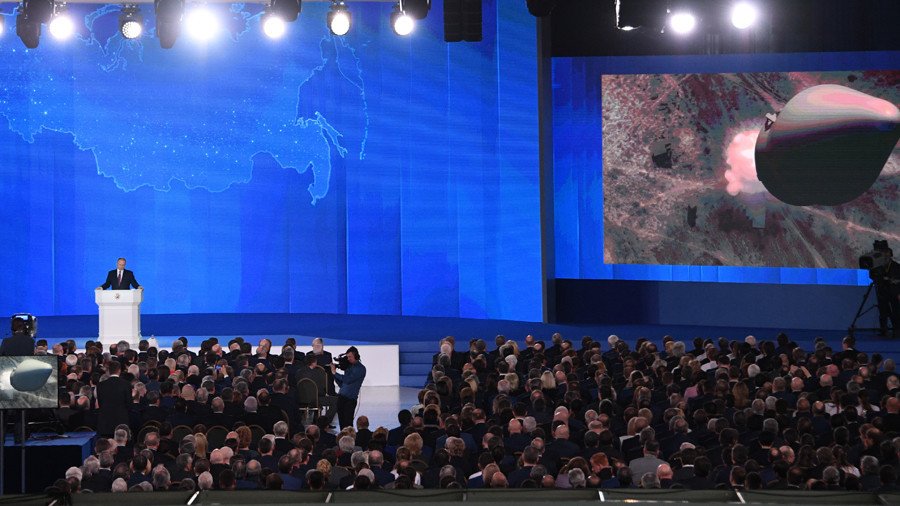 President Vladimir Putin, who recently startled the world by unveiling Russia's advanced nuclear arsenal, has again spoken of nuclear arms, clarifying the circumstances in which Moscow is prepared to enter a nuclear war.
"Certainly, it would be a global disaster for humanity; a disaster for the entire world," Putin said, in an interview for a Russian documentary "The World Order 2018," adding that "as a citizen of Russia and the head of the Russian state I must ask myself: Why would we want a world without Russia?"
READ MORE: 'Listen to us now': Putin unveils new Russian nuclear arsenal
Even though Putin admitted that any conflict involving the use of nuclear weapons would have dire consequences for humanity, he maintained that Russia would be forced to defend itself using all available means if its very existence is put at stake.
"A decision on the use of nuclear weapons may only be taken if our ballistic missile attack warning system not only detects a launch, but also predicts that the warheads would hit Russian territory. This is called a retaliation strike," he said in the interview.
Russia's latest edition of its nuclear doctrine allows the use of nuclear weapons in response to a nuclear attack against Russia or its allies, or to a conventional attack that threatens the existence of Russia.
Putin also denied Russia was interested in pursuing a nuclear arms race, saying that "to begin with, we did not start this… nuclear bomb was first developed not by us but by the US," he said in the interview, pointing out that "we have never used nuclear weapons [although] the US used them against Japan."
On March 1, the Russian president unveiled a set of brand-new Russian nuclear weapons during his state of the nation address. The list includes the newest intercontinental ballistic missile (ICBM), which has virtually no range limit, high-precision hypersonic missile systems as well as nuclear-powered drone submarines and even combat lasers. All these announcements came amid Moscow's growing concerns over US policy in relation to nuclear arms and missile defense.
Putin told NBC's "Megyn Kelly Today" that a new arms race has been started by Washington when it decided to withdraw from the 1972 Anti-Ballistic Missile Treaty (ABM Treaty) back in 2002. The US then proceeded with a massive arms build-up right on Russia's doorstep. In the following years, the US has virtually encircled Russia with its missile defense installations, in particular by stationing them in Romania and Poland. It also, for the first time, deployed a battery of Patriot long-range anti-aircraft systems to Lithuania for war games.
Last week, Alexander Fomin, Russia's deputy defense minister, said that the number of anti-ballistic missiles deployed in the vicinity of the Russian borders as part of the US military buildup could soon reach as many as 400. Earlier, the Russian Foreign Minister Sergey Lavrov expressed his concern over the US training programs, which involve training the military of Washington's non-nuclear allies on how to use American tactical nuclear weapons. Such actions violate the Nuclear Non-Proliferation Treaty, Lavrov said.
Like this story? Share it with a friend!
You can share this story on social media: