Scores arrested as Turkish police break up women's rallies (PHOTOS, VIDEOS)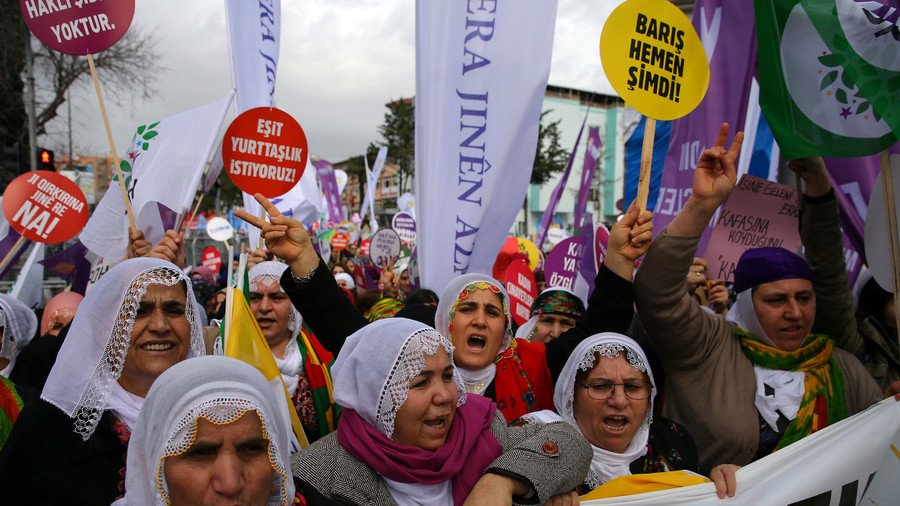 Women's rights rallies and protests against the military campaign in Syria resulted in scuffles with police across Turkey. Tear gas was deployed and at least 15 people were arrested in Ankara.
On Sunday, women took to the streets in cities throughout the country, including Ankara and Istanbul, to rally for their rights ahead of International Women's Day. The demonstrations were spearheaded by NGO Ankara Women's Platform and held under the motto: "We fight against war, state of emergency [OHAL], sexism, for our identity and our freedom."
The movement also blames the government for neglecting the rights of women and children, legitimizing male abuse, and fanning the violence inside and outside the country with military operations against Kurds. Such operations include an ongoing army offensive in the Kurdish-controlled enclave of Afrin in Syria, according to local media, citing the text of the platform.
As demonstrators in Ankara started marching in the Cankaya municipality, officers reportedly told them that they were prohibited to hold a rally there. Police deployed tear gas against the protesters after they refused to disperse, AFP reported.
Photos and videos on social media show police using force against the women, who were pinned to the ground and rounded up by policemen.
At least 15 women have been arrested in Ankara following the rally, according to AFP. Local media reported that 18 people were detained and fined for misdemeanor, and were subsequently released.
Violent scenes also occurred when a similar march was disrupted by police in the city of Corlu in the northwest of the country. Police used tear gas and rubber bullets against the participants, according to local media reports. At least 7 people were detained in Corlu, but there are conflicting reports saying that 8 people were put in custody.
The disrupted protests coincided with a 1,500-strong women's rally in the Bakirkoy district of Istanbul on Sunday, according to AFP. The group was protesting Turkey's cross-border operation against Kurdish militias in Syria.
Pro-Kurdish Peoples' Democratic Party (HDP) Chair Pervin Buldan condemned the actions of police, siding with the protesters. "You say you came to Afrin to protect Turkey, but you cannot even protect a child in this country. We do not give birth to our children so they will lose their lives in your wars," she was quoted by Evrensel as saying.
The Turkish operation in Syria's Afrin, codenamed "Operation Olive Branch" and targeting Kurdish militias has been underway since January 30. While its military insists the campaign is aimed exclusively at wiping out terrorists, it has faced allegations of targeting civilians. At least 2,668 "terrorists" have been neutralized by Turkish troops since the onset of the offensive, the military said in a statement on Sunday. Turkey considers the Kurdish People Protection Units (YPG) to be a wing of the Kurdistan Workers' Party (PKK), which it considers a terrorist organization.


You can share this story on social media: