'Silent victims': Yemeni street artist paints boy holding own leg (VIDEO)
Published time: 4 Mar, 2018 20:24
Edited time: 6 Mar, 2018 18:47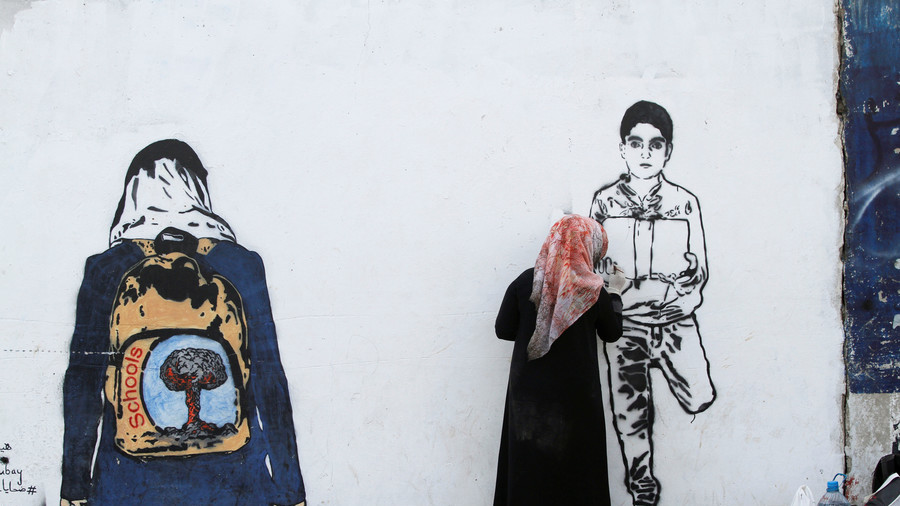 Street artist Haifa Subay is bringing attention to children's suffering in war-torn Yemen with an attention-grabbing mural that shows a child holding his own leg after losing it in a landmine.
The piece of art in the capital Sanaa, titled 'Just a Leg,' is part of Subay's 'Silent Victims' campaign. "The artwork and the campaign in general are aimed at raising awareness of women and children's issues and their suffering in the time of war," she told RT's Ruptly agency.
"'Just a Leg' is painted for victims, especially children. According to United Nations reports, 96 percent of the victims of individual mines that are planted in conflict zones in Yemen are children."
The artwork is Subay's sixth painting in the mural campaign. Other pieces have focused on the various consequences of Yemen's ongoing civil war - people who have disappeared, water shortages, the destruction of schools, displacement, and the exploitation of schools for military purposes.
"My message is one of peace. Women and children are the most affected by this war and no one cares about them. War is pointless, it has targeted everything in Yemen; there's nothing left," she told Reuters.
'Just a Leg' comes less than one month after RT spoke to a teenage boy in Yemen who lost his leg in a bombing campaign. "The first strike left me without my leg. I remember I was standing - and then I fell down - already without a leg," he said.
Subay's brother, Murad, is also a street artist and has been dubbed the Banksy of Yemen, or Arab Banksy. He believes that art can bring people together, even in the most horrible of circumstances.
He has also captured the horrors and hardships faced by civilians, using his talent to bring awareness to the suffering taking place. "Yemen was dragged into a catastrophic war, and ordinary civilians are paying a high cost for it, and they will be paying it for decades," Murad told RT last year.
Yemen's civil war began in March 2015, when the Saudi-led coalition launched a bombing campaign against Houthi rebels in an attempt to reinstate ousted Abdrabbuh Mansur Hadi as president. The conflict has killed thousands, displaced many more from their homes, driven millions to the brink of famine, and led to a major cholera outbreak.
Think your friends would be interested? Share this story!