'Netanyahu is a disaster': Protesters demand embattled Israeli PM's resignation (VIDEO)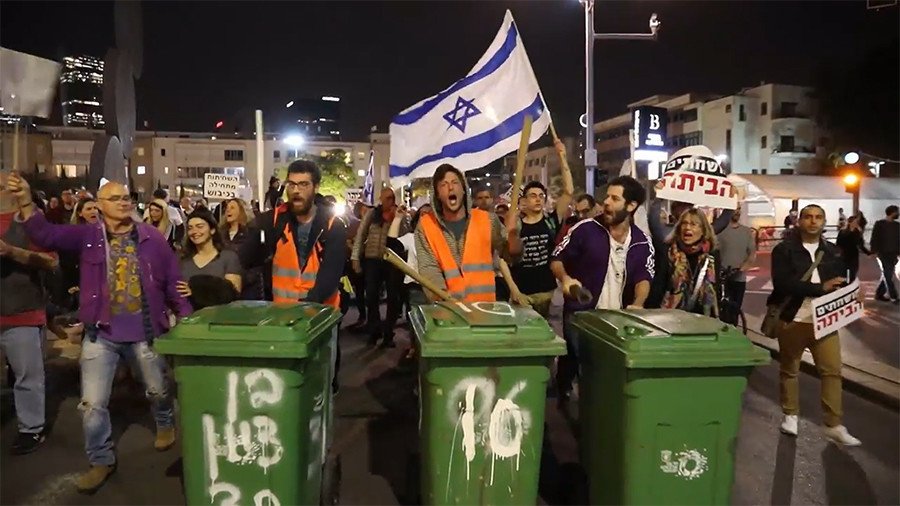 Hundreds of protesters took to the streets of Tel Aviv Saturday, to demand Prime Minister Benjamin Netanyahu's resignation. The Israeli leader is being investigated in at least four different corruption cases.
Demonstrators gathered in Tel Aviv for the latest in a series of weekly protests calling for Netanyahu to step down. The prime minister is embroiled in a series of corruption probes and last month police recommend he be indicted for bribery in two investigations.
Some demonstrators wore clown noses and carried signs showing images of Netanyahu in similar fancy dress. Other signs read, "Crime Minister,""Crooks go home!" and "From right to left Netanyahu is a disaster."
READ MORE: Israeli court rejects petition to spare Netanyahu from public outcry in corruption probes
"I come from very far every week in order to protest because I am very worried about the situation in the country. I come with my children," protester Irit Hareal told Ruptly. "We want them to grow up in a country with values, where the corruption doesn't exist and where not all government members are corrupted and put on trial. This is very important for me. I was born here. I want all my children to live here, and this is why I come every week."
Protesters shouted, "Bibi, go home" and "Bibi resign, the people will not give up," as they marched through the streets. The demonstrators were met by a number of counter-protesters supporting Netanyahu's Likud party. They condemned the "attempts to carry out an undemocratic revolution," YNet reports.
Police questioned Netanyahu and his wife Sara for several hours on Friday over Case 4000, said to be the strongest case against the four-term Israeli leader. It examines whether the owners of Bezeq Israel Telecom gave Netanyahu favorable coverage on the Walla news website in return for favors from regulators. Netanyahu was communications minister from 2014-2017, while also serving as prime minister.
Netanyahu said in a Facebook video Friday that he is confident nothing would come of the investigations. He maintains he is a victim of a "witch-hunt."
In the Case 1000 investigation, police allege Netanyahu was given over $280,000 in gifts by businessmen and a Hollywood producer, and are recommending he be indicted for bribery. Case 2000 alleges Netanyahu worked with Arnon Mozes, the publisher of the biggest-selling Israeli newspaper Yedioth Ahronoth to slow the growth of a rival newspaper in exchange for favorable coverage. In Case 3000, investigators are examining a $2 billion contract given to Germany's Thyssenkrupp Marine Systems and whether corruption was involved.
Think your friends would be interested? Share this story!
You can share this story on social media: