Catholic Church's exploitation of nuns for cheap labor exposed in Vatican publication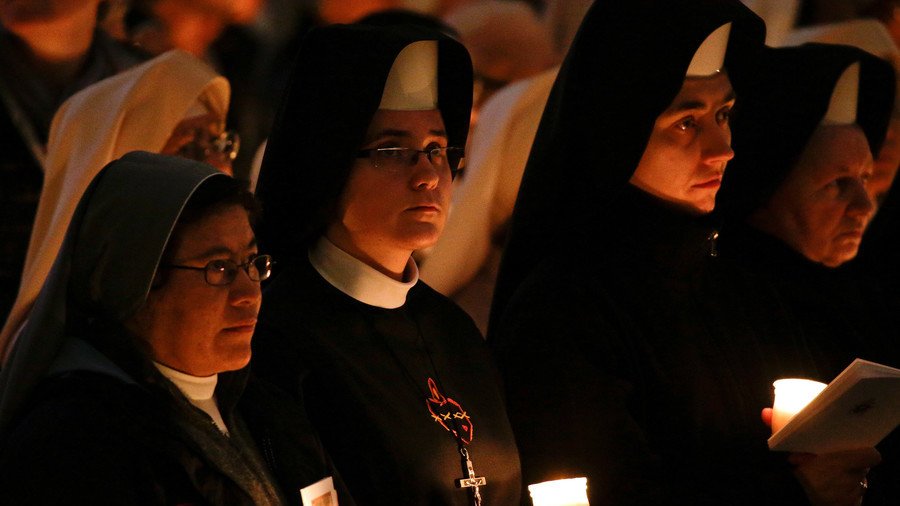 An official Vatican publication has exposed the widespread economic exploitation of nuns for cheap or free labor by the Catholic Church's male hierarchy. It called for an immediate end to the servitude.
'The (nearly) free work of the nuns' was published in the March edition of Women Church World – the monthly magazine on women distributed alongside the Vatican newspaper L'Osservatore Romano. The article includes accounts from several nuns, using pseudonyms, on their experiences working for free or little money in the Catholic Church.
One nun called Sister Maria, for the purpose of the article, said several nuns work long hours in the homes of bishops and cardinals, cleaning and cooking, and are not invited to share meals at the same table. "They are deeply frustrated but they are afraid to speak because behind everything there can be very complex stories," Sister Maria explained.
Another nun using the pseudonym Sister Paule said that in many cases the sisters do not have contracts with the parishes they work with so they earn little or nothing."It is an injustice that also occurs in Italy, not only in distant lands," she said.

The economic exploitation poses practical problems for nuns and their communities who worry about looking after ill sisters and carrying out their mission with no funds. However, according to the sisters interviewed, the lack of recognition is the greatest issue.
Male vocations are valued, while the work of women is not, they say, highlighting the inequality inside the church.The nuns claimed that sisters with PhDs in subjects such as theology had been sent to do domestic work, with no explanation.
"Behind all this, there is unfortunately still the idea that the woman is worth less than the man. Clericalism kills the Church," says Sister Paule.
"My sisters and I live very poorly and we do not aim at wealth, but only to live simply in decent and just conditions. It is a question of survival for our communities," another nun, identified as Sister Cécile, said.
READ MORE: Nun shocks Church by suggesting Jesus's mother wasn't a virgin
In its Friday edition, L'Osservatore Romano published a preface written by the pope for a Spanish-language book on women. In it, he voices his concerns over society's chauvinistic mentality and admits the Church is no exception. "I am concerned that in the church itself, the role of service to which every Christian is called, often, in the case of women, slides into roles of servitude rather than service."
Pope Francis has previously called for nuns to be treated with greater respect and in 2016 commissioned a study on the possibility of ordaining female deacons. The pope said at the time that should someone "ask you to do something that is more of servitude than service, you are courageous to say no!... Your vocation is for service, service to the church … but not of servitude."
Unlike his predecessors, Pope Francis lives in a Vatican guest house and is catered for by paid waiters. Pope Benedict, who resigned in 2013, was looked after by about eight female members of a lay Catholic organization known as Memores Domini while the late Pope John Paul, who reigned from 1978 to 2005, had a team of five Polish nuns who ran his household.
Think your friends would be interested? Share this story!
You can share this story on social media: