Fire consumes ship moored in central Moscow (VIDEO)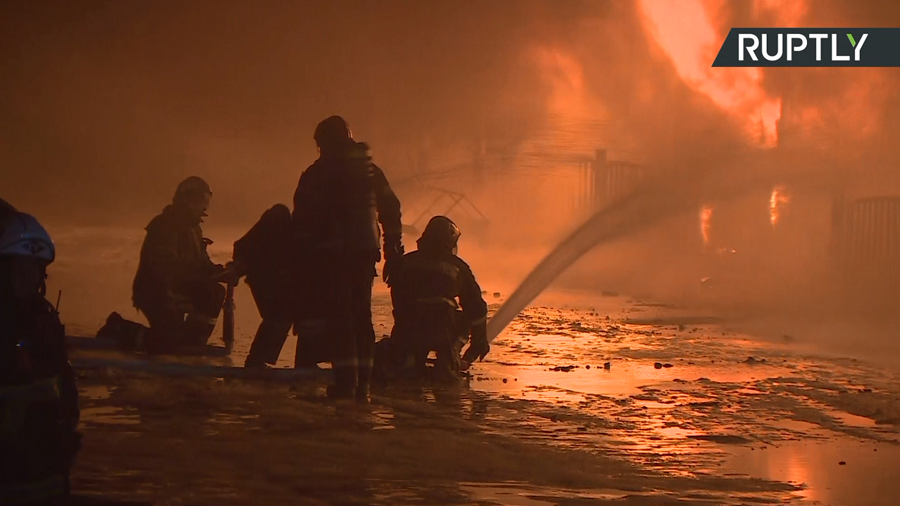 A vessel has caught fire on the Moskva River in Russia's capital, with firefighting crews dispatched to contain the blaze. Footage from the scene shows the ship engulfed in flames.
The river vessel, moored near a shopping mall in central Moscow, caught on fire late on Thursday. The fire spread over some 200 square meters, engulfing the entire vessel. Some 100 firefighters and 30 ground vehicles were dispatched to the scene along with a fire ship, the emergency services said in a statement.
No people were believed to be on board the ship, preliminary data released by the emergency services shows. However, firefighters are trying to minimize the risk of neighboring buildings catching on fire as well.
Despite the firefighters' efforts, the fire has consumed the entire ship, engulfing some 1000 square meters. A nearby ship, however, has been safely tugged away from the burning vessel.
A source in Moscow emergency services told TASS the burning vessel might have some 7 tons of fuel in its tanks.
The firefighting efforts were hampered by a lack of fire hydrants in the immediate vicinity of the ship, an emergency services spokesman told reporters at the scene. Firefighters had to drill a hole in the ice and pump water directly from the Moskva River. Apart from that, the rescuers discovered a "likely illegal" electric cable running along the embankment, which posed an electrocution threat to the firefighting teams. Disabling the cable also took time, which allowed the fire to spread through the ship.
When the fire erupted, there were three crewmembers aboard the vessel. They tried to put fire on they own but did not succeed. There were no other people abroad, the spokesman said, citing the rescued crew members.
If you like this story, share it with a friend!
You can share this story on social media: