'Only the beginning': 2,000yo mummies discovered at major Egyptian tombs (VIDEO)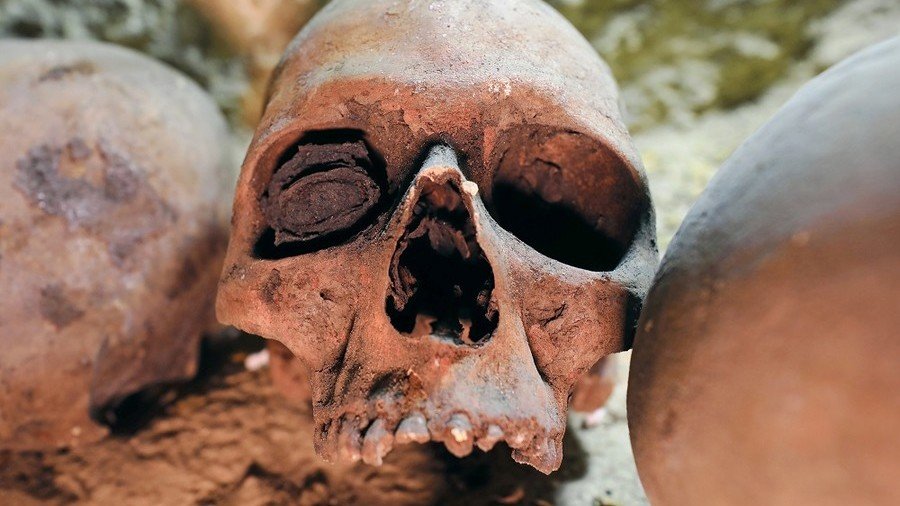 Ancient tombs filled with coffins, mummies, and artifacts have been discovered in Egypt. Archaeologists say this is just the beginning of the discovery, as the site is expected to take five years to excavate.
The large necropolis (or cemetery) was uncovered south of Cairo, near the Tuna al-Gabal archaeological site that's home to a range of tombs. It's believed to be from the late Pharaonic to the early Ptolemaic period.
"It's only the beginning of new discovery," Egyptian Antiquities Minister Khaled al-Anani said on Saturday. "I think we will need at least five years to work on the necropolis."
Archaeologists began excavating the area last year. They have since found tombs of the priests of Thoth, the god of moon and wisdom.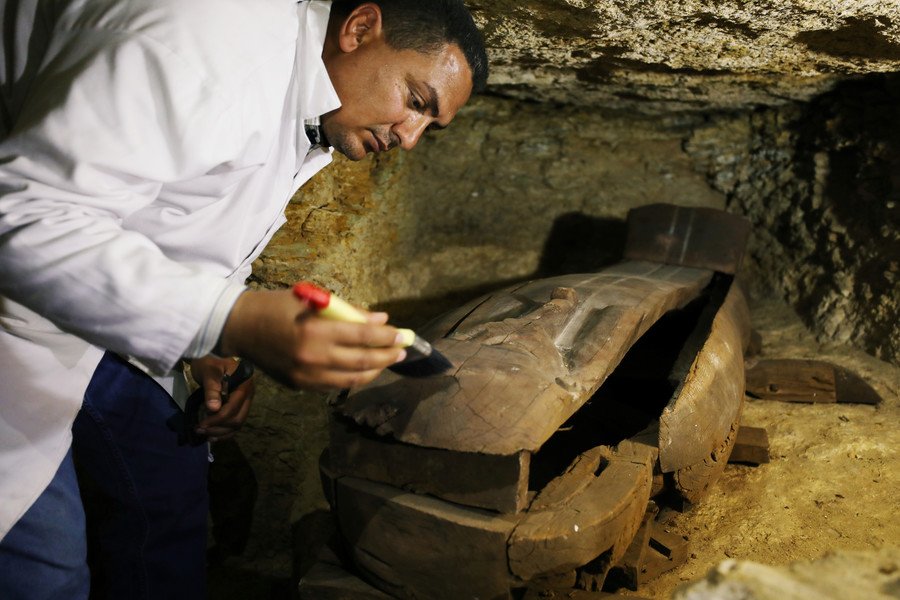 "It is a new human cemetery. We found at least forty sarcophagi [stone coffins]," El-Enany said. "We found many pottery, jewellery, canopic jars, more than one ushabti statue."
"Eight shafts, eight tombs, coffins and at least forty stone coffins made out of limestone," Dr. Mostafa Waziri, Secretary General of the Supreme Council of Antiquities, said. "And I believe that this is going to be a very promising area."
One of the tombs has over 1,000 statues and alabaster canopic jars which are inscribed with hieroglyphics. These are designed to hold the mummified organs of a high priest of Thoth. The priest's mummy was also discovered. It was decorated with beads and bronze sheets.
The sarcophagi are believed to belong to the priest's family members. The coffins had hieroglyphics of the family names on them. Another newly discovered tomb contained statues of ancient priests, several coffins and other artifacts.
"It's only the beginning," said Enany. "We are very soon going to add a new archaeological attraction to Middle Egypt." Egypt hopes the latest discovery will boost the tourism sector, which, although improving, has never recovered to levels seen before the Arab Spring in 2011.
However, the archaeologists aren't the first to discover the tombs. "Unfortunately the thieves reached the tombs before us," antiquities inspector Mohamed Ragab said. "We have only found rubble, all the mummies we have found are near-destroyed."
Think your friends would be interested? Share this story!
You can share this story on social media: